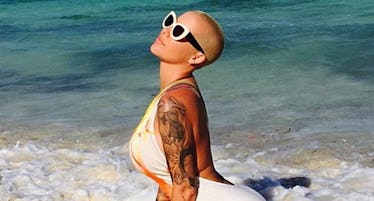 How Amber Rose Proved She's Better Than Any Kardashian, Any Day
If you've been living under a rock or aren't up on today's hip-hop news, Amber Rose is an outspoken video vixen and model who has dated a few high profile musical acts, including Kanye West and, most recently, Wiz Khalifa.
So, why is she relevant today? Well, Ms. Amber Rose is currently beefing with none other than the Kardashians.
The Kardashians, famous from the technicality that one of them had a sex tape and profited from it, are now at odds with Amber Rose.
Rose has not only been in a high-profile relationship with Kanye (aka, Mr. Kim Kardashian), but she is also good friends with Blac Chyna, Tyga's baby mama. Tyga is another hip-hop/rap star involved with the Kardashians, as he is now rumored to be dating Kylie Jenner.
You may be wondering where the problem is, as it seems everyone in the industry sleeps together.
Well, Kylie is only 17 years old and Tyga is 25; thus, their relationship isn't exactly socially acceptable. That's just the tip of the iceberg, though.
Now, I can't recall who called out whom first, but there were comments Kanye made about Amber Rose, where he suggested his new wife made him rigorously clean himself before they slept together.
The dig was meant to insinuate Amber Rose is dirty, and escalated into an all-out social media war.
Cut to Amber taking to Twitter (the public forum for celebrities to beef with each other) to call out Kim and the whole Kardashian family for basically being hypocritical.
After some back and forth with the third Kardashian sibling, Khloé, Amber decided to put it all out there.
Amber doesn't have a sex tape; she hasn't profited from having adult relations on film. She hasn't profited from being married on television; she hasn't profited from exploiting her family. No, Amber has succeeded for many other reasons.
Amber has been called every name in the book, but she'll never be a liar or anything but 100 percent honest. She knows what she's got; she flaunts it, and she lets the world know about it.
The difference between Amber Rose and the Kardashians is she doesn't have to drastically (and surgically) alter her appearance for sake of beauty.
She appreciates her curves, her body and she supports all women. She was recently spotted at an LA strip club with her friend, Blac Chyna, supporting the talent there. She is a woman playing in a man's world and excelling.
All of the flack Amber gets is unwarranted. She has to support her child, just like any other single mother, but her life is under the microscopic lens of Internet community trolls.
She has had to defend herself against the many powerful and high-profile rap stars who took sides in her divorce to rapper Wiz Khalifa. She keeps going and never misses a beat.
Amber Rose is a star on the rise, whose stock continues to increase every time she stands up for herself. With it being Women's History Month, it's only proper that we discuss her efforts to defend herself and her name in this new wave of what it means to be a feminist.
Amber Rose is changing the narrative on body shaming, and reminding women it's acceptable to embrace your body, flaws and all.
She gives the public something to talk about, and no matter how negatively these items are construed, she knows it is with most positive intent.
I don't know Amber Rose, but she should be commended for being bold, brash and unafraid.
Let's all stop hating on Amber Rose, and remember, she, unlike some stars, isn't going to be forever remembered as a sex tape celebrity.