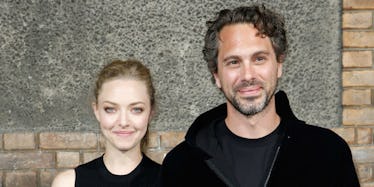 Amanda Seyfried Is Engaged To Her Boyfriend Of Only Six Months
Rex Features
When you know, you just know!
Amanda Seyfried, 30, and her "Last Word" co-star, Thomas Sadoski, 40, are now engaged, according to Us Weekly.
The source said,
Tommy and Amanda recently got engaged and shared the happy news with family and close friends.
The newly engaged couple had been dating for six months. The two met while filming their comedy "The Last Word," which will be released later this year.
The two first met while they appeared in the play "The Way We Get By" in 2015, but they only started to date while they filmed their new movie together.
It was on Tuesday, September 6 that Seyfried was seen walking her dog wearing a ring on her left ring finger. Before her relationship with Sadoski, she dated Justin Long and Dominic Cooper.
Sadoski split with his wife of eight years, Kimberly Hope, in 2015.
Seyfried has said that she has often thought of settling down, but despite it being her first wedding she doesn't plan on wearing white. She told E! News,
I got married so many times in my life — onscreen! I don't want a white dress! I've worn so many of them.
Hey, wear whatever you want -- it's your wedding, after all. Congrats, Amanda and Thomas!
Citations: Amanda Seyfried Is Engaged to Boyfriend Thomas Sadoski (Pop Sugar)