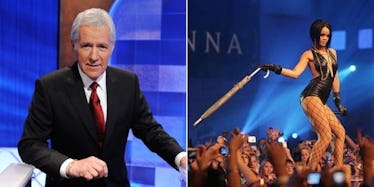 Alex Trebek Singing Rihanna's 'Umbrella' Is All You Need To Hear Today (Video)
Alex Trebek might not be the coolest guy around, but he seemed pretty with it when he showed off his knowledge of popular music on "Jeopardy!" a couple of nights ago.
Trebek read a clue that included lyrics from Rihanna's song "Umbrella."
His reading was a little stilted, but Trebek was able to pull it off. For one thing, he nailed the "eh" portion of the song.
So, if you ever wanted to hear Alex Trebek reciting lines from a Rihanna song, here's your chance.
Check out the video above.
Citations: This is what it sounds like when Alex Trebek sings Rihanna (EW)