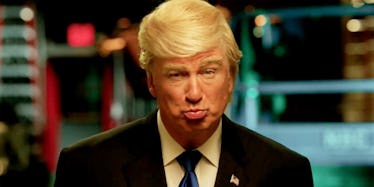 Alec Baldwin Is Proof You Need To Make Mistakes To Be Happy
YouTube
Alec Baldwin made hilarious history when he played not only Donald Trump, but Fox News Host Bill O'Reilly on "Saturday Night Live" over the weekend.
In less than 24 hours, he showed up at the Brooklyn Academy of Music to play himself and talk about his new book. 
Baldwin was interviewed by creator and host of the "Death, Sex, & Money" podcast, Anna Sale.
She didn't shy away from the tough questions, like what he'd learned from his relationship with his daughter Ireland, now that he's parenting his three young children with his second wife.
The star of "Beetlejuice" and "30 Rock" was funny, candid and even wise. He did his Trump impersonation, as well as ones of Woody Allen, Al Pacino and Robert De Niro.
Here's the top 10 takeaways and words of wisdom from his chat:
1. On self-esteem
Failure was much more familiar to me than success.
Baldwin said he was going to give acting a couple of years, but if things didn't work out, he would rather have moved on rather than hang in there and wait tables.
He'd likely have finished college at NYU (he did get his degree, years later) and gotten a "regular job."
2. On the movie industry
It's this much about how talented you are, and this much about how much they like you.
Basically, of the movie business, Baldwin said a lot of success really boils down to casting.
He recounted one of his first TV gigs during which he kept forgetting his lines, and his co-star was kind enough to feed them to him.
So partly because of that kindness, he was able to keep on going.
3. On divorce
In a 2010 Vanity Fair Article that explained his breakup with ex-wife Kim Basinger and the fallout over the custody battle with their daughter Ireland, he was called the "bruised mascot for the male midlife crisis."
He said of relationships that people should "find a way to get into therapy and the collaborative divorce because you'll so regret it if you don't."
4. On marriage
He said today, there is a general attitude of what he called "disposability" in marriage, but he said his role is to support his wife Hilaria in the raising of their children.
He said of his second marriage that he "got very lucky, and luck plays a big part of it."
5. On going for what you want
Baldwin said after his split with his first wife, people advised him not to get into another heavy relationship right away and to pay attention to his daughter.
But Baldwin said when he met Hilaria, he "thought it would be a horrible act of self-robbery if I didn't do this."
He described how before meeting her, he was unhappy and would do something we all can relate to: sit at home, eat ice cream and watch movies.
6. On parenthood
Baldwin said he loves being a dad, and he recalled this story his father had once told him: "Parenthood is a contest between two people, where the dad always wins the bronze medal."
Baldwin explained that when he had his first two children with his second wife, things went really well.
But then with their third child, things became "Cirque du Soleil" at home. He said he couldn't even give people who came over a place to sit because — as is the case with many parents — his apartment had become a huge playpen with toys everywhere.
7. On the media
Baldwin had no love lost for the media, saying, "We live in the age of the shame-based media," and added, "People in the media now need to have someone to hate and to blame."
He said he still gets asked about the voicemail he left his daughter, even though the two of them get along well, and he lights a candle for her every night — even when he's on the road — as a reminder of that relationship.
8. On politics
Baldwin highlighted two issues near and dear to his heart: reproductive rights and campaign finance reform.
Of the Citizens United decision allowing unlimited money into politics, he said, "We continue to sell candidates like soap on TV."
He even said that unless the system itself changes, he wouldn't be surprised if someone "worse" got into the White House.
9. On how he got to play Trump
Baldwin explained that he was waiting for money for an independent movie to come in, and it never did.
In the meantime, Lorne Michaels, creator of "SNL," asked him to play Trump.
At first he'd said no, but when the movie didn't work out, they decided to do the skit. And now, Baldwin said he's done it over a dozen times.
10. On advice for actors
Don't do what I did and go for the money. Enjoy it.
So, there's your top 10 Alec Baldwin tidbits.
And if you want more of Baldwin and less of Baldwin-as-Trump (or O'Reilly), check out his new memoir, "Nevertheless."