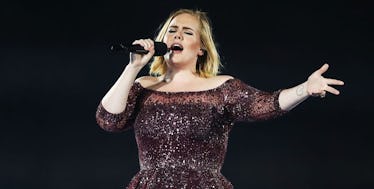 Adele Writes Fans Emotional Note: "I Don't Know If I'll Ever Tour Again"
Cameron Spencer/Getty Images
Adele is famous for making us all cry, but it's usually her music that tugs on our heartstrings, not the singer herself breaking all of our hearts.
On Wednesday, a fan posted a photo of a handwritten note that was reportedly included in the concert program at Adele's show in Wembley, London.
In the note, the "Someone Like You" singer pours out her heart, thanking fans and breaking some news that will leave you sobbing: She may never tour again.
The Grammy winner is headed into the final weekend of her Adele Live Tour, which began back in February 2016, and will play shows on Thursday, Saturday, and Sunday at Wembley Stadium.
One fan posted a photo of the letter and transcribed the content in full:
So this is it after 15 months on the road and 18 months of 25 we are at the end. We have taken this tour across uk+ Ireland, throughout Europe, all over America and I finally got to go to Australia and New Zealand too. Touring is a peculiar thing, it doesn't suit me particularly well. I'm a real homebody and I get so much joy in the small things. Plus I'm dramatic and have a terrible history of touring. Until now that is! I've done 119 shows and these last 4 will take me up to 123, it has been hard out an absolute thrill and pleasure to have done. I only ever did this tour for you and to hopefully have an impact on you the way that some of my favourite artist have had on me live. And I wanted my final shows to be in London because I don't know if I'll ever tour again and so I want my last time to be at home. Thank you for coming, for all of your ridiculous love and kindness. I will remember all of this for the rest of my life. Love you. Goodnight for now.
No, Adele! How can you do this to us???
Back in March, the 29-year-old expressed a similar sentiment, but everyone just kind of hoped she would forget what she said. She told the crowd at Mount Smart Stadium in Auckland, New Zealand,
I don't know if I will ever tour again. The only reason I've toured is you. I'm not sure if touring is my bag.
Adele has never been shy about her feelings and anxiety when it comes to touring, but it's hard to imagine a world where her voice doesn't fill stadiums night after night.
Maybe after a nice long break and perhaps a new album she'll decide she misses her screaming fans too much and will rethink this decision.
Hello? Adele, can you hear me?