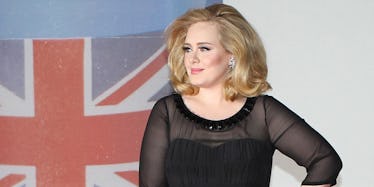 Adele Posts Heartfelt Video Apologizing For Canceling Her Show
Shutterstock
ADELE! Look at me with your beautiful eyes the color of a summer storm and hear me when I say you do NOT need to say you're sorry.
The Grammy winner/gift sent from heaven to help us access our deepest emotional caverns posted a video in which she apologized for canceling a show in Phoenix, Arizona due to illness.
She told viewers she was "really, really sorry," adding,
I've had a cold for a couple days and I've been pushing through it. And I did my show last night and I loved it but I pushed too hard and my cold has gotten the better of me.
Adele apologized a second time for "letting anyone down" and noted, based on her obvious congestion, she wouldn't be able to deliver fans her usual life-changing performance.
She continued,
I've enjoyed my tour so much and canceling shows has not been something I want to do and I've pushed through a lot of things but I've been trying to sing all morning and warming up and nothing's really happening.
Phoenix ticket holders won't be thrilled to spend their evening on YouTube, drinking alone and pretending to listen to Adele live, but the cancellation is for the greater good.
The 28-year-old reminded viewers,
It's the last thing I want to do, but I have to look after myself because I've got so many more shows to do.
Adele promised to reschedule this show and "smash it" for fans who missed out thanks to her cold.
Believe it, Arizona.
Citations: Hello, it's make-up free me: Adele looks almost unrecognisable as she posts apologetic video after having to cancel show due to ill health Read more: http://www.dailymail.co.uk/tvshowbiz/article-3746021/Adele-shows-natural-beauty-ditches-trademark-eyeliner-stunning-make-free-selfies.html#ixzz4HgtL23yE Follow us: @MailOnline on Twitter | DailyMail on Facebook (Daily Mail)