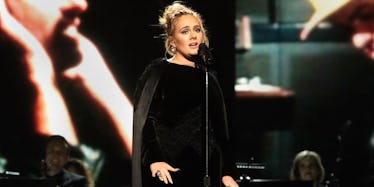 Adele Showed Up To A London Fire Vigil And Things Got So, So Emotional
Christopher Polk/Getty Images
After a massive fire tore through the Grenfell Tower high-rise apartment building in London yesterday claiming the lives of 12 people and injuring 74 others, Adele attended a vigil for all of the victims affected by the tragedy.
The vigil was held near the site of the fire, and Adele's attendance at the vigil with her husband Simon Konecki was only made public by people who were there and posted about it on social media.
Adele hasn't made any statements/posted on social media about the fire, she just attended the vigil and offered to help the victims in any way she could, according to Cosmpolitan.
An eyewitness of the event said Adele was "offering her support to everyone affected by the tragedy."
Fans of the singer are saying her silence online and her presence at the vigil show her sincerity and loving nature.
Hard to argue with that.
Grenfell Tower is a 24-story public housing complex owned by the local government in the Kensington and Chelsea borough. According to the Independent, the building had a large number of unaddressed fire hazards, despite the residents making many complaints to the building management in the past.
The residents reportedly had previously warned management that their requests to fix the building's slew of problems would only be addressed after losses of life. The Independent reports the management had failed to complete a fire safety review of the building.
The fire started early in the morning on June 14 and continued throughout most of the day, according to reports.
Residents of the building were reportedly told to stay in their apartments to protect their safety — a policy that only makes sense if your apartment/building is equipped to handle a fire. According to the Telegraph, the building did not have a sprinkler system.
Hundreds of people have lost their homes as a result of the fire.
If you would like to help, there are multiple donation pages set up for the victims of the fire. You can find one of the GoFundMe pages here.