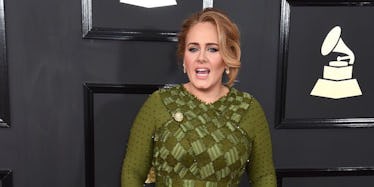 Ambitious Fan Is Selling A 'Legit Bag Of Air' From Adele's Concert For $2,000
REX/Shutterstock
Say what you will about fanatical Adele fans, but those sumbitches are entrepreneurial as hell.
When eBay user @shaun_mcdonough captured a "Legit Bag of Air" in a ziplock bag at the singer's show in Adelaide, Australia, he listed the starting price at just $14.95 on the auction site, Daily Mail reports.
The item ended up selling for over $2,000 before it was removed from eBay.
Shaun posted a new listing, titled "The Original legit Adele live air bag (ebay removed my original listing)."
His new listing includes a screenshot of an email from eBay detailing the site's concern over his original post.
They wrote,
We've determined that some of your listings haven't followed our No Item policy… To protect both buyers and sellers, buyers should be able to verify an item after receiving it. Listings that don't offer an item for sale, or where the existence of the item for sale can't be verified, aren't allowed.
Though he was shut down during his first attempt, Shaun is selling the bag again with bids starting just as low as before.
He listed the item's condition as "brand new," adding,
Here is the orginial coles bag zipped shut from the adele show adelaide 2017. Get some adele history any fan must have this. Get in quick this time!! You're are bidding on a coles bag the air inside is a bonus for the buyer. It was up to almost 2500 before it was taken down by ebay!! The air inside is a bonus gift for the lucky buyer.
Hardcore Adele fans willing to take a leap of faith and bid on this bag will have to sift through a collection of copycat listings hoping to capitalize on the success of Shaun's original post.
Oddly enough, $2,000 is enough to secure seats at several Adele tour stops, but tickets to her show don't come with a complementary sandwich bag.
Citations: 'A true fan must have this air!' The plastic BAG OF AIR from Adele's Adelaide concert posted on Ebay by a fan is now bidding at a whopping $2,000 (Daily Mail)