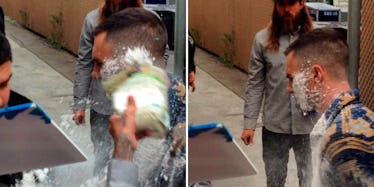 Someone Attacked Adam Levine With A Bag Of Powdered Sugar In LA (Video)
Instagram
Adam Levine may want to be a bit more careful with what he wishes for.
While signing autographs outside of the "Jimmy Kimmel Live!" studios in Hollywood last night, the "Sugar" singer was attacked and hit with a powdered sugar bomb thrown by an unidentified man who apparently took the singer's latest single a bit too literally.
Levine was unharmed, save for a bruised ego.
According to eyewitness Laura Tijerina, the Maroon 5 frontman "looked like he wanted to fight the guy" after the assault.
She added,
I think this guy had it planned. It was a brown bag with tape around it, which was weird. I just saw powder everywhere. It was just so quick.
The suspect, who sources say is also responsible for throwing a rock at Dwayne "The Rock" Johnson last week, was quickly apprehended.
A representative for "Jimmy Kimmel Live!" told The Hollywood Reporter,
Immediately after the incident occurred, ['Jimmy Kimmel Live!'] security followed protocol and alerted LAPD who responded quickly and are looking into the situation.
Sources confirm the suspect, a man in his 30s, was later arrested on suspicion of battery.
Some witnesses managed to get photos.
"Your sugar. Yes, please. Won't you come and put it down on me?" http://t.co/Y8qecHL2Y6 pic.twitter.com/aEUoQ8tbd9 — E! Online (@eonline) May 7, 2015
Levine did not look happy.
This was one not-so-sweet surprise.
Citations: Adam Levine hit with sugar bomb in Los Angeles (CNN), Adam Levine Accosted Outside Kimmel Show (Billboard)