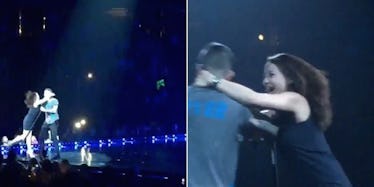 Adam Levine Got Attacked By A Crazy Fan And Reacted Like A Total Boss (Video)
I think it's safe to say women love Adam Levine.
One woman at a recent Maroon 5 concert in Anaheim, California took her admiration for the singer a little too far.
This young woman hopped on stage in the middle of the concert and grabbed Levine. It didn't seem as if she meant him any harm. She just wanted to give him a hug.
At first, Levine was taken aback, as is to be expected. But once he realized what was happening, he handled the situation with grace and poise. He put his arm around the fan and waited until security took care of the situation.
I never thought I'd say this, but Adam Levine is a classy guy.
Here are some videos of the incident:
Citations: Adam Levine Gets Attacked by a Fan on Stage (Cosmopolitan)