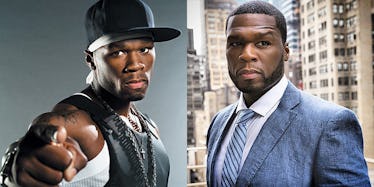 How 50 Cent Went From Drug Dealer To Powerful Businessman
Instagram
The reason behind 50 Cent's success is simple.
I mean, it was the chorus for his song "Hustler's Ambition" off the Get Rich or Die Tryin' soundtrack.
I want the finer things in life, so I hustle.
At the core of every successful person lies that hustler's mentality.
The desire to be the hardest worker in the room, and willingness to go places and do things others won't, is what can't be taught.
It's something you're born with.
What inspires someone to go a certain distance is entirely up to him or her.
Curtis Jackson was born a hustler, but had no choice as he used these tactics as means of survival growing up one of the roughest neighborhoods in NYC where there are not many reasons for hope.
Forbes just named him the fourth richest rapper in the world in 2015 with a net worth estimated at around $155 million.
But the journey to reaching his potential and becoming the man was much more than just leveraging his music career to helping him transition into new ventures.
50 has been masterminding this sh*t before the world even knew.
1987: Curtis Jackson's introduction into the business world was selling drugs on the streets of Queens at age 12.
Curtis was born to a single mom in Jamaica, Queens, New York in 1975.
Caught up in a life of drugs and selling cocaine, she died when 50 was just 8, and he moved in with his grandmother where he began a new life hustling on the streets. In seventh grade, he started selling drugs.
50 said, according to Genius.com,
When I wasn't killing time in school, I was sparring in the gym or selling crack on the strip.
He was arrested in 10th grade when school metal detectors discovered his gun, then later cash and drugs. But that didn't stop him.
1994: Jackson's troubles with the law catch up with him.
Ironically enough, Jackson never abused drugs nor alcohol.
But after several more years of dealing in the streets, he faced three to nine years in prison for selling cocaine to an undercover cop.
However, he ended up serving just six months in boot camp where he earned his GED.
His second lease on life allowed him to pursue a new career.
1998: He begins rapping and focusing his energy toward a music career.
After linking with Jam Master Jay, Curtis discovered his passion for music and began going under the name 50 Cent.
Not only did he teach Jackson how to compose a song, but he got him his first album feature on "React" with Onyx.
Over the course of the next few years, he would hone his craft and gain attention from rappers like Jay Z and DMX.
He even dropped a track with Destiny's Child called "Thug Love," and yes, sh*t is fire. However, it was what happened on the way to the video shoot for the song that changed his life forever.
2000: 50 Cent is shot nine times outside his grandmother's house.
In the 2005 biopic "Get Rich or Die Tryin'," 50 recreated the scene of the night he was nearly fatefully shot.
He was shot up close nine times by an unknown gunman outside of his grandma's crib where he was retrieving some jewelry for his shoot with Destiny's Child.
The results were some facial wounds, loss of teeth and a slurred voice, which has now become signature in his rapping style.
Luckily, he survived and got even hungrier from the experience.
2003: His debut album Get Rich or Die Tryin' puts him on the map.
The talented gangster rapper busted onto the scene with an immediate co-sign from Dr. Dre and Eminem, plus a $1 million record deal.
His debut album, which dropped in February 2003, not only cemented him as a force in hip-hop but debuted at number one on the Billboard charts.
50 Cent would continue to see more commercial success for well over the next decade, breaking sales records, going on world tours and putting on other artists.
2003: 50 also starts G-Unit Records through Interscope.
50 Cent is also responsible for one of the most prolific rap group/labels when he started G-Unit Records through Interscope.
With rappers like Lloyd Banks, Young Buck, Tony Yayo and later The Game all on the roster, gangster rap remained mainstream but with a new school twist.
Their reign as rap's top group lasted until members began feuding and egos made them all fall out. However, 50 Cent's new budding outlook on business was only just beginning.
2003: He signs his first corporate deal with Reebok and launches a line of G-Unit sneakers and clothes.
After signing a five-year deal with Reebok in '03, 50 Cent got his first taste of closing a business deal, but it was certainly not the last.
His vision for branding and marketing products became a strong point and his approach to his career totally changed after that.
2004: Jackson becomes an investor with Glacéau and helps sell VitaminWater for $4.1 billion.
In October of 2004, 50 partnered with the beverage company Glacéau and created his Formula 50 flavor with VitaminWater.
When Coca-Cola purchased the company for $4.1 billion in 2007, Jackson was a minority shareholder, but still walked around with a cool $100 million after taxes!
He remained with the company afterward and continued to promote the brand through hilarious commercials and viral marketing.
Other investments included Right Guard, Magic Stick condoms and Steiner Sports.
2005: 50 Cent releases a movie about his life and story.
Just two years into his rap career, 50 Cent was one of the hottest acts in the industry.
That allowed him to play himself in "Get Rich or Die Tryin'," the feature film depicting his life, and helped his brand go beyond just music but into film and entertainment.
2009: Jackson starts his own film production company that receives major investments.
Jackson partnered with Randall Emmett in 2009 to launch a film production company called Cheetah Vision.
In 2011, the business received a $200 million investment to fund a 10-picture deal under Grindstone and Lionsgate with each film budgeted around $20 million each.
2011: He launches SK Energy, which aims to feed one billion starving people in Africa by 2016.
Along with his partner Chris Clarke, 50 launched Street King energy drinks, which has a philanthropic mission.
With the goal of donating one billion free meals to the most impoverished parts of Africa, 10 cents from each drink sold went toward feeding the hungry.
With 3.5 million meals donated by himself, he aims for 2016 to reach the company's goal.
With the rampant starvation in Africa and hunger afflicting children worldwide, we need socially responsible businesses that affect real change now more than ever. It's our mission with Street King to really change children's lives around the world.
In the same year, 50 launched SMS Audio, an electronics company specializing in headphones and pledged the same charitable cause for their earnings.
2015: 50 Cent is named the world's fourth richest rapper, according to Forbes.
In addition to his music, movie and business career, 50 Cent stays busy in real estate, has a boxing promotion company and even mines for metals in South Africa.
The man even has his own branded platinum!
He also executive produces the hit Starz show "Power" and continues to see his ideas come to fruition every day.
He's worth $155 million and is showing no signs of stopping until he hits those b-racks.
So, for anyone who thought 50 Cent fell off, he's laughing at you all the way to the bank.