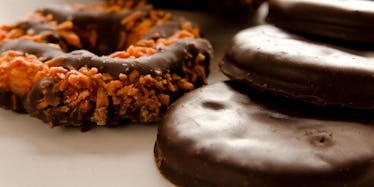 Guess Which Celebrity Chef Cannot Stand The Taste Of Girl Scout Cookies
On "Jimmy Kimmel Live!" Wednesday night, celebrity chef Gordon Ramsay had a sampling of America's favorite after-school snack, Girl Scout Cookies. And it did not go well.
Apparently, the "Hell's Kitchen" star had never tried the beloved cookies before and had to be coaxed into it by Kimmel. Of the three varieties he tasted -- the Samoa, the Tagalong, and Thin Mints -- he liked the peanut butter cookies the best. Though, "like" might be a strong word since he said Tagalongs were "like dog biscuits visually."
He spit out both the Samoa and the Thin Mints he tried, startling the entire audience. Toward the end of the clip, Kimmel successfully breaks the tension with a joke,
Well, Gordon Ramsay's Visa just expired.
But seriously, Gordon, you don't like Samoas?! It's a shame this means I'll never be able to watch "Hell's Kitchen" again. Except, that's a complete lie and I will totally keep watching it.
Watch the full clip below to either laugh out loud or be infuriated by the lack of respect.
Citations: WATCH GORDON RAMSAY TRY GIRL SCOUT COOKIES FOR THE FIRST TIME (First We Feast)