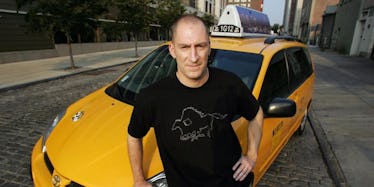 The 'Cash Cab' Is Coming Back To New York City, So Forget About Using Lyft
Discovery Channel
The "Cash Cab" revival is officially the only revival I care about. Everyone else can go home.
Because according to The Hollywood Reporter, the taxi cab game show that ended in 2012 is officially coming back to the streets of New York City.
Discovery Channel is apparently working with comedian David Steinberg, who will executive produce, to bring back new episodes of the beloved show.
However, instead of starring former "Cash Cab" host Ben Bailey as the driver, this new revival will feature various famous comedians behind the wheel.
It is not known whether Bailey, who won a Daytime Emmy Award for his role as host, will be involved in the revival or not.
Ugh, a "Cash Cab" without Ben Bailey? I'm not sure if that's the kind of Cash Cab I want to take a ride in.
Of course, the original "Cash Cab" wasn't without its flaws.
If you didn't have Discovery Channel growing up and don't know the show, the premise is that "unsuspecting New Yorkers" climb into what they think is a normal cab — and instead find themselves in a trivia show where they can win cash money.
But then, in 2008, it was revealed that contestants were actually selected in advance to be on the show at least half of the time, and that the money handed out at the end of the show was fake — contestants were mailed a check later.
To be fair, these contestants were told they were being driven to a "reality show," and did not know the cab taking them was the Cash Cab. And carrying all that cash around is probably unsafe, anyhow.
It's not the worst thing a game show's ever done, but it did shatter New Yorkers dreams of randomly getting into the Cash Cab some day.
(Fine, they were my dreams. My "Cash Cab" dreams were crushed.)
But hey, who knows, maybe this new version really will be random people on the street. And if it is, Uber and Lyft can kiss my business goodbye — I'm a cab gal now.
Citations: 'Cash Cab' Revived at Discovery Channel (Exclusive) (The Hollywood Reporter)