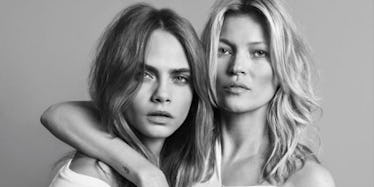 Cara Delevingne Says Kate Moss Really Helped Her Through Depression
Cara Delevingne credits writing, yoga and Kate Moss with helping her overcome her struggles with depression.
During a talk on Friday at the Women in the World Summit, the "Paper Towns" star and Swift-squad mainstay was very open with attendees about her bouts with depression that started when she was just 15 years old.
When asked about her beginnings, Cara talked about how early issues in school led her to drop out to pursue a career in modeling.
She told the moderator and audience,
I really wanted to do well at school to please my parents, to please my family. I didn't really care that much about school because I knew I wasn't very good at it. I think I pushed myself so far that I got to the point where I had a bit of a mental breakdown… I have very bad learning disabilities. If you look at my writing, it's not good at all.
Later she said,
I was completely suicidal, I didn't want to live anymore. I thought that I was completely alone... I wanted the world to swallow me up, and nothing seemed better to me than death, which is completely insane.
When she was 17 years old and still battling depression, Cara entered the notoriously unfriendly and judgmental world of modeling. She spoke of her early struggles, saying,
It wasn't nice. You're constantly told that you're not pretty enough, and not tall enough, and not skinny enough and people are better. When you're young you think that means, 'I'm not good enough as a person.' That means, 'I'm not living up to who I should be.'
Cara admitted her first year in the business was a rough one, however, after that year she did start to get noticed and was frequently booking jobs.
At a certain point, though, she said she became overworked as she refused to say no to gigs, which led her to develop psoriasis.
She openly said,
All those problems I had I feel like I masked with medicine instead of taking time to really solve them. But at that time I really wanted someone to stop me. I wanted someone to go, 'You need to take a break, you need to look after yourself'... What happened is I eventually said no, I eventually took a break to the advice of Kate Moss who kind of picked me up off the floor.
Cara explained she used tools like yoga and writing in order to cope with the stresses from the industry and dealing with her depression, but she really credits Kate Moss with saving her.
You can watch the full interview here.
Citations: Cara Delevingne suicidal as a teenager because of depression but saved by Kate Moss as an adult (The Independent)