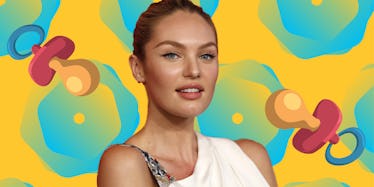 Victoria's Secret Model Shows Off Her Growing Baby Bump In Sexy New Photo
Reuters
Candice Swanepoel is one hot mama.
Pregnancy is super tough. I'm a dude, so I luckily will never undergo the process of fermenting new life in my stomach, but I'm firmly aware of how much it can absolutely suck.
Even the thought of science getting to a point where it can "Junior" me like Arnold Schwarzenegger makes me nervous. Just like everything in life, though, it's about perspective, and Candice Swanepoel is all about putting a positive spin on baby fermentin'. (Is it weird this is the only way I can refer to pregnancy?)
The Victoria's Secret model and soon-to-be mother is taking pregnancy in stride, opting to embrace her bulging belly and motherly figure, or, as she calls it, her "lady lumps."
The 27-year-old's most recent Instagram post will make you want to have a baby.
By the way, Swanepoel, who is expecting the baby with her fiancé Hermann Nicoli, is just, like, really good at being pregnant.
Like really really really good at it.
Candice has been incredibly open to her fans throughout the whole pregnancy. A few months ago, she even revealed the gender of the baby with an Instagram post.
Straight-up KILLIN' dat baby fermentin' game.
Citations: Candice Swanepoel Showcases Her Lady Lumps in Near Naked Baby Bump Pic (Us Weekly)