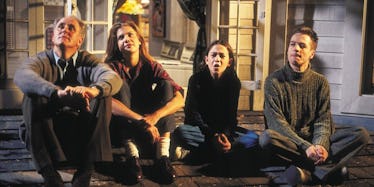 13 Canceled TV Shows That Are Worthy Of Binge-Watching This Winter
NBC
There are so many TV shows out there.
But lately -- aside from a few exceptions -- they seem to come and go rather quickly.
A lot of the current shows just don't grab your attention like they used to.
For this reason, it might be time to discuss which old TV shows we can all get into.
We all know about the obvious ones: "Sex And The City," "One Tree Hill," "Gilmore Girls," "Friends," "Boy Meets World" and "Full House."
But there are so many more old shows you may not know about.
Here are 13 shows you should watch that are no longer on television:
1. "Hope And Faith" (2003 - 2006)
A wife and mother has her predictable life turned upside down when her sister comes to live with her.
Her sister was a television star until her character was killed off, and she needs to get herself back together while she finds something new.
The show is funny, and can remind us of our own relationships with our siblings.
2. "7th Heaven" (1996 - 2007)
This series follows the Camden Family. The father is a minister, and the mom stays home to raise the children.
It dives into the dynamics of a small town community by revealing the social and romantic lives of the family's various members.
Real-life issues are always addressed, and a lot of the topics are heavy. But it's a touching series.
Anyone can find a character he or she can identify with.
3. "Freaks And Geeks" (1999 - 2000)
Before "Girls, "Bridesmaids" and "Knocked Up," the famous producer, Judd Apatow, brought us something amazing.
It was unappreciated at the time (hence it only has one season), but it's become a cult classic.
And rightly so.
The show is set in a 1980s high school with two distinct social groups.
One is the freaks: a group of pot-smoking, class cutting teens.
The other is the geeks: the studious, unpopular kids.
The show centers around a sister and brother who each belong to one of the groups, and chronicles their high school experiences.
The show is hilarious and real, and features a lot of our favorite actors before they were famous.
4. "The Lucy Show"  (1962-1968)
Most people have heard of "I Love Lucy."
This is another series that showcases the brilliant Lucille Ball, one of the greatest female comedians ever and the first woman to run a television network.
"The Lucy Show" featured a lot of the same cast as "I Love Lucy."
The show centers around Lucy Carmichael, and follows her as she deals with daily misadventures in her personal life.
It's the perfect show if you want to laugh while enjoying a performance by one of the most badass women of all time.
5. "elimiDATE" (2001 - 2006)
In the department of trash reality television that we all must admit we sometimes enjoy, this show takes the cake.
It's like "The Bachelor," but less romantic and drawn out.
In each episode, we meet a single guy or girl who is looking for love (or usually just a hook up).
Then, four potential mates come together for a "group date."
Eliminations are made after each phase. By the end of the episode, the contestant selects one person to "win" and go on a date with.
Get ready binge-watch this one!
6. "Welcome Back, Kotter" (1975 - 1979)
This show started it all for John Travolta, and it was also a career high point for many of the actors.
The story revolves around Mr. Kotter and his unruly class of students at an inner city high school.
They're troublemakers and a lot to handle, but he cares about them.
The day-to-day antics that take place are absolutely hilarious, and make the show a classic.
7. "3rd Rock From The Sun" (1996 - 2001)
Ah, a young Joseph Gordon-Levitt!
The show is about a group of aliens who are sent to Earth on a mission.
They assume the appearance of a human American family, and do their best to assimilate into "earth culture."
They take jobs, enroll in school and attempt to run the household.
The show is hilarious, and features a lot of great 90s actors.
8. "Two Guys, A Girl And A Pizza Place" (1998 - 2001)
This show was a lot like "Friends," except it came later.
For whatever reason, it wasn't as successful. However, it's still totally worth watching.
It's about a group of close friends (two guys and one girl, obviously) who live in the same apartment building.
The woman works at a pizza shop, and the two guys are her roommates who hang out at the shop.
They become close and support each other through life's challenges.
The show is really relatable for our generation at this point in time. Not to mention, it's super funny.
9. "The Facts Of Life" (1979 - 1988)
This is an old but awesome sitcom about a group of teenage girls who attend boarding school.
It's a spin-off of the popular series, "Diff'rent Strokes."
The girls are going through the challenges we all do during the process of growing up. However, they have to do so away from home.
They lean on each other for support, and look to their housemother for guidance.
The show tackled a lot of topics that were taboo at the time, and it told the stories in an honest, informative way.
The girls on the show are all very different. So no matter who you are, you can identify with at least one of them.
10. "The Golden Girls" (1985 - 1992)
Many of you probably already know of this one.
It's about a group of older women who are all either divorced or widowed.
While the roommates' very different personalities sometimes create tension, they also bring out the best in one another.
Watching it will give you something to aspire to and look forward to when you get older.
(Bonus: There was also a spin-off series called "The Golden Palace." It's pretty funny, even if it can never stand up to the original.)
11. "Party Of Five" (1994 - 2000)
This show was really popular during its time, but it doesn't get the rerun exposure many other series do.
It's about a family of siblings (you guessed it, five of them) who are on their own after their parents were killed in a car accident.
It's a show that was sometimes funny, but it was also very raw.
The kids struggle with the challenges of growing up without their parents. They essentially raise each other.
It's a great show to watch on weeknights while you relax.
12. "Dawson's Creek" (1998 - 2003)
This is a typical teen show about four teenagers growing up in a small town.
The show starts off during their junior year of high school, and it follows them through to adulthood.
They struggle with life, love, friendship, career, family issues and concern for their future.
They face big ups and big downs together, and are forced to make some difficult decisions.
Netflix has brought this gem back into our lives, and I strongly suggest taking advantage of it.
However, do yourself a favor and YouTube the show's opening credits with the original song from the television run.
You can thank me later.
13. "The Wonder Years" (1988 - 1993)
This is going to sound familiar: It's a show about a boy growing up during the late 60s and early 70s.
He has a sister, brother and picture-perfect parents. He goes to middle school (and later, high school) with his best friend, Paul, and his other best friend he's actually in love with, Winnie.
They cope with school pressures, dating and growing up in general during the changing times.
It's basically "Boy Meets World," but told from the perspective of an adult looking back on his life.
It's also set in a different era.
Ironically, the lead character is played by Ben Savage's (Cory Matthews in "Boy Meets World") older brother, Fred. It's a great show to watch if you enjoy its counterpart.
The world of television is extremely fast-paced, and we easily forget shows once they've been taken off the air.
However, many of these shows can easily become your favorites if you just give them the chance (even if they are "before your time").
So sit back, relax and enjoy your television time travel.
They always say "out with the old, in with the new."
But sometimes, it's fun to remember how things used to be.