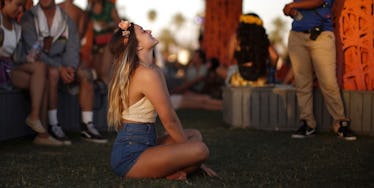 Here's How To Camp At Coachella Like A Complete Boss
Reuters
Attending the Coachella Valley Music and Arts Festival is a right of passage in its own right, but it's not until you take the final decision to camp instead of stay in some fancy AirBnB that you truly become a Coachella expert.
But let's be real: Camping at a festival ain't easy. Here are a few tips to have the ultimate camping experience.
Stay somewhere fly.
This year, Elite Daily made the decision to stay at Base Camp, a 40-acre ranch that will be taken over during the festival.
Derek Boucher from Base Camp walked us through a few of the amenities at Base Camp including,
The property has a lake on-site, a pool. We will be doing special guest performances, curated DJ sets. There will be hot air balloon rides, festival transportation, pop-up restaurants and cocktail bar.
So, yeah, clearly a dope glamping experience.
Beyond camping, Base Camp is also offering some seriously awesome day parties. Each day, the camp will bring in a different curated experience. Get your free RSVP here.
There are only a few spots left at Base Camp, so make sure to reserve your spot next to Elite Daily now.
Bring all the necessary accessories.
Sure, you may know to pack a sleeping bag and your toothbrush, but don't forget all the extra stuff that can make the camping experience complete.
Reddit user (and clear Coachella pro) Kmart_Elvis shared his ultimate packing list:
Decide if you're a tent or car camper.
This year, we made the decision to up the ante a bit by not only becoming car campers, but also becoming Happier Campers.
That's right; we're rolling in like true professionals. The Happier Campers, which fit a few Coachella-goers, also come equipped with a few amenities like a fridge and stovetop. Oh, and they look dope as hell.
For others, you must choose between packing in all your stuff or driving your car, allowing for more stuff. But let's be real: This is Coachella. You really only need a few crop tops, a sleeping bag and a flower crown anyway.
Know the rules before you go.
If you're camping on-site at Coachella, make sure you know all the rules before you go.
The rules aren't as simple as you'd expect. One rule of car camping, for example, is you can't leave between certain hours.
As Coachella's site explains,
Please be advised all car/tent only camping lots will be on lock down between the hours of 10pm and 2am nightly. Cars Camping will NOT be allowed to exit during those times. If you need to leave car camping prior to Sunday at 2am, you must do so before 10pm.
Check out the full list of rules here.
Make friends with your neighbors wherever you camp.
Having a great attitude is the number-one recommendation any Coachella-camping expert will give. It's clutch to make friends with your neighbors, as they will likely be the ones you run to when you need something.
Pack light, bring extra water and, most importantly, have fun!
Stay tuned for more Coachella coverage here, and follow us live weekend 1 on Snapchat (EliteDailySnap), Twitter (@EliteDaily) and Instagram (EliteDailyEnvision).