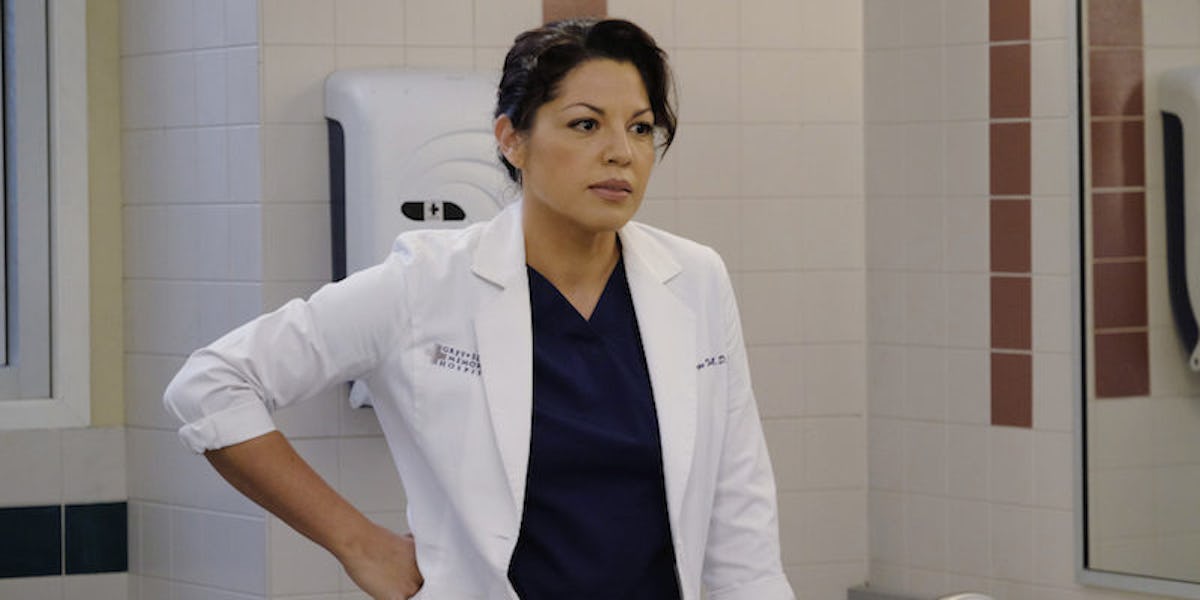 5 Things We Can All Take Away From Callie Torres' Time On 'Grey's Anatomy'
Buena Vista Home Entertainment
In case you've been living under a rock and haven't heard, "Grey's Anatomy" star Sara Ramirez, otherwise known as Callie Torres, has announced her departure from the show after 10 strong years to take a well-deserved break from filming.
In a post-season-final tweet, Ramirez writes:
I'm deeply grateful to have spent the last 10 years with my family at Grey's Anatomy & ABC but for now I'm taking some welcome time off. Shondas been so incredible to work for, and we will definitely continue our conversations! I send my love to Ellen, the rest of the cast & crew, and I look forward to always being a part of the Shondaland family!
And of course, director Shonda Rhimes tweeted to address the thousands of devastated fans who flocked to Twitter to get the latest news:
Dr. Callie Torres came into our lives dancing it out in her underwear almost a decade ago and I could not be happier or more proud of her journey. Sara Ramirez's performance inspired me as well as millions of fans each week. We wish her the best on her well-deserved time off. I will miss Callie tremendously, but am excited for what the future holds for Sara. She will always have a home at Shondaland.
Dr. Callie Torres will be remembered by fans for her bold (and sometimes crazy) outlook on life, her love for surgery and her outlandish personality. As a devoted "Grey's Anatomy" fan, I thought it was only fair to honor Ramirez by sharing some of the most pivotal life lessons I've learned from following the show for all these years.
Here are five things we can all take away from Sara Ramirez's time at Grey Sloan Memorial Hospital:
1. Be proud of your sexuality.
Torres first realizes she's attracted to women in season two after she and George get divorced. (Remember when they got married?) Torres' character grew to be an advocate for LGBTQ+ communities all over the world. She touched on many sensitive issues in a mature and relatable manner.
2. With a little help from your friends, you can make it through anything.
Torres was faced with countless tragedies during her time at Grey Sloan Memorial Hospital. From losing ex-husband George just as he was deployed to serve in the Army to losing Mark Sloan in the plane accident and making the decision to amputate her own partner's leg, Callie has been through it all.
Her most recent challenge (the custody battle) was without a doubt one of Callie's biggest emotional roller coasters during her time on the show. If other fans of "Grey's Anatomy" are anything like me, they cried just about as much as Callie did. (I literally think I cried every time she did, which was a lot.)
Through it all, the doctors at Grey Sloan never let Callie suffer alone. Whether it was downing bottles of tequila, dancing on tables (in their underwear, of course) or simply providing a shoulder to cry on, Callie has shown us that things really do get better with time.
3. If you put your mind to it, almost anything is possible.
Callie performed countless memorable surgeries and procedures. The stand-out project she worked on had to be the research she did with Dr. Shepard to help war veterans walk again. Through countless trial and error, she never gave up on her dream to change people's lives for the better.
4. Marriage is tough.
Fans watched as Callie suffered through the dissolution of a marriage not once, but twice. First, we watched George and Callie's relationship fall apart after his infidelity. We also saw Callie embrace her sexuality shortly after.
More recently in the series, Callie and Arizona struggled to put their differences aside and make the tough decision to divorce. The couple showed us that marriage is tough, and it certainly isn't always rainbows and butterflies. Couples fight, and things don't always go according to plan.
5. When in doubt, dance it out.
One of Callie's most memorable onscreen moments was in season three when Chief Webber caught her dancing in her underwear underneath the hospital. Callie's confidence has inspired us all to be comfortable in our skin. And when we're not 100 percent feeling ourselves, we just have to dance it out.
Thank you, Dr. Torres, for all of your amazing wisdom and life advice. We miss you already.