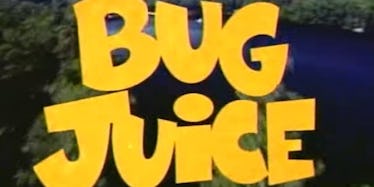 Attention '90s Kids: 'Bug Juice' Is Coming Back To Disney Channel
Disney Channel
Get ready to go back to Camp Waziyatah, 90's kids! The news is official: Bug Juice returns to Disney Channel in an all-new reboot of the classic 1998 - 2001 reality show. Disney Channel announced the news Friday in an official statement to Cosmopolitan.
Susette Hsiung, Executive Vice President, Production, Disney Channels Worldwide said in the statement,
Bug Juice' took viewers on a journey of adventure and self-discovery. Now, nearly two decades later, we are thrilled to be back in Maine at Camp Waziyatah with the creative team from Evolution Media and many of the same crew members who produced the original series.
The statement continued,
Bug Juice is produced by Evolution Media, which also created and produced the original version of series and has been at the helm of other popular unscripted kids content for Disney Channel, including Movie Surfers, Totally in Tune and Totally Hoops. It is executive-produced by Douglas Ross, Alex Baskin, Tina Gazzero Clapp and Toni Gallagher. Ross, Clapp and Gallagher were all involved in the production of the original series, which premiered on February 28, 1998 and ran for three seasons.
Bug Juice first premiered on Disney Channel in 1998. It was Disney Channel's first unscripted show, and followed 20 kids and their experience at summer camp. Production filmed on location at Camp Waziyatah in Waterford, Maine. The show ran for a total of three seasons, with Season 2  at Camp Highlander in Horse Shoe, North Carolina and Season 3 at Brush Ranch Camp in Tererro, New Mexico.
Now, nearly 20 years since its premiere, Bug Juice has returned to Camp Waziyatah. Filming at the camp is currently underway, and will wrap mid-August. According to a report from Deadline, the reboot is scheduled for an early 2018 premiere, in accordance with the show's 20th anniversary. While there are no concrete details on the reboot, Cosmopolitan reports the show will mirror the original by featuring a cabin of teen guys and a cabin of teen girls.
Of course, reality TV has changed a lot in the last 20 years. In a world filled with Nick Vialls and Rachel Lindsays and Catfishing, is there room for 14-year-olds doing the ropes' course? I certainly hope so.