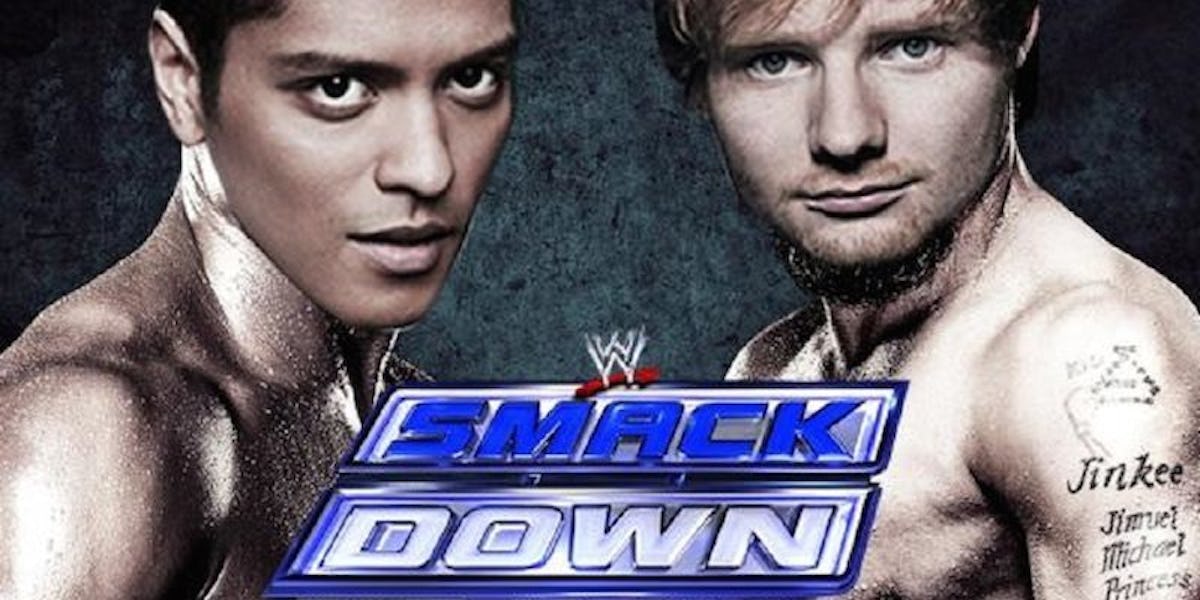 Bruno Mars And Ed Sheeran Felt Left Out And Started A Twitter Feud
Twitter
First, there was Taylor and Nicki's VMA beef.
Not long after, Meek Mill and Drake got into it.
Now, it's Ed Sheeran and Bruno Mars' turn to exchange some fighting words -- but this time, it's all in good fun.
Last night, the two participated in an hours-long mock feud on social media that began after Mars jokingly tweeted he wanted "in on this Twitter beef."
Mars, of course, was referencing the separate battles Swift/Minaj and Mill/Drake are currently ensnared in, both of which were spawned by the (apparently controversial) recently announced VMA nominations.
Mars and Sheeran are both up for several awards for "Uptown Funk" and "Thinking Out Loud."
Both Mars and Sheeran will be competing against each other in the Video of the Year, Best Male Video and Best Pop Video categories, and Mars is up for Best Direction while Sheeran scored another three nods in various categories.
Last night, Mars poked fun at his peers' ongoing Twitter feuds by starting a mock fight with fellow nominee Ed Sheeran.
Yo I want in on this twitter Beef!! VMAs is the new WWF!! @edsheeran Fuck You! — Bruno Mars (@BrunoMars) July 22, 2015
About 20 minutes later, Sheeran still hadn't responded, so Mars tried to rally him up a bit more.
SHOW YOURSELF!!! @edsheeran https://t.co/J07BphUedV — Bruno Mars (@BrunoMars) July 22, 2015
It worked.
@BrunoMars any way we do dis you gon' come up short — Ed Sheeran (@edsheeran) July 22, 2015
Mars got punny as f*ck, letting the world know the feud was, in fact, a massive joke.
That Cut deep..U always know how to sheer me to the core. I can't believe we're Sheeran this in public. How dare u! https://t.co/fdYOVnlScF — Bruno Mars (@BrunoMars) July 22, 2015
And then this happened.
@BrunoMars but all my crew know that Bruno has eyebrows dat be uno. And plays Cluedo with SuBo, but you lose coz you blow — Ed Sheeran (@edsheeran) July 22, 2015
The WWE even challenged Bruno to make good on those fighting words.
If you boys are serious, I can make it happen! @edsheeran vs @BrunoMars @WWE #SummerSlam! https://t.co/jFWJ4qddAT — Stephanie McMahon (@StephMcMahon) July 22, 2015
Well played, guys.
As announced yesterday, Miley Cyrus will host this year's VMAs.  Tune in on Sunday, August 30 to catch it live and see how the feuds -- and, of course, the nominations -- all play out
Citations: Bruno Mars just said fuck you to Ed Sheeran over the VMAS but dont worry hes joking (Metro)