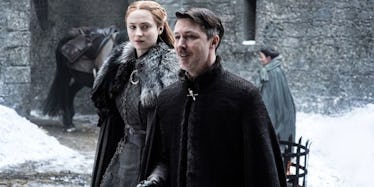 This Character Just Made It Home For the First Time In Years On 'Game Of Thrones'
HBO
This post contains spoilers from Game Of Thrones Season 7, Episode 3. As of the end of Game of Thrones Season 7 Episode 2, as Jon departed Winterfell to sail for Dragonstone, two other Starks were turning their heads towards home. At the top of the premiere, we saw Meera drag the sled up to the gates of Castle Black and demand entry on their way south. This week the question was who got home first? Arya? Or would Bran and Meera arrive at Winterfell ahead of her and explain to Sansa what a Greenseer is on Game of Thrones?
Moreover, how would Sansa react to these arrivals? We assume that she and Arya seeing one another again will be something of a weep-fest on Sansa's end, because though Arya should be registered as a professional deadly weapon, as the younger sister she poses no threat to Sansa's status as "Lady of Winterfell." (This doesn't mean Littlefinger won't try to turn the sisters against each other down the road or anything. It just means that Sansa will have no reservations about letting Arya in.) But Bran is the male true-born Stark. Technically, he outranks Sansa. Will that factor into his homecoming?
Apparently not! Sansa is all too happy to see her little brother home again, especially in light of how Rickon's return went last season. Bran is much less moved by his arrival home, but that is more due to his newfound yogi-like inner calm that we got a taste of in the premiere.
Also? Shout out to Edd, who made up that glorious horse-drawn wagon he hooked Bran up with. Seriously y'all, the idea that Meera might have to drag his butt all the way home through the snow was so upsetting to me. Glad to see the Night's Watch decided there was a horse to spare, and men to make him a nice ride.
As for any worries Sansa might have about Bran Stark being put in charge over her because patriarchy, his clear preference for the Godswood and his weir tree should hopefully ease any fears, and also help stave off any poisonous gossip from Littlefinger. He's the Three Eyed Raven, and he's going to babble on about the Long Night, and she's not going to understand any of it.
Even if Littlefinger were to be so foolish, we're pretty sure after Bran's little display of greenseeing power, Sansa either wouldn't be having it, or Bran would call her out if she did. How pretty she looked on her wedding night, indeed. (To be fair, I 100 percent agree with Bran's fashion opinions here. Sansa Wedding Dress #2 totally outranked Sansa Wedding Dress #1. Both are outranked by Margaery Wedding Dress #1 though. Fight me.)