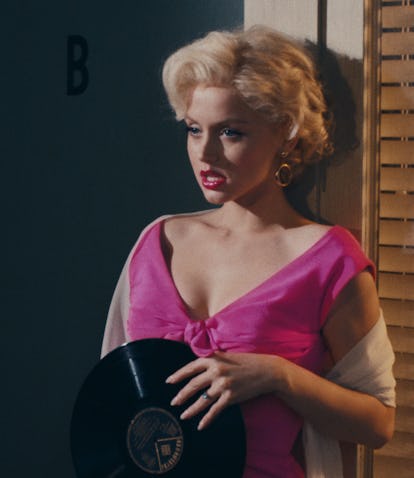 Ana de Armas Fully Embodies Marilyn Monroe In The Tragic New Blonde Trailer
Netflix
Director Andrew Dominik's adaptation of Joyce Carol Oates' Blonde, the historical fiction novel based on Marilyn Monroe's life, has been developing since 2010. But it wasn't until Netflix acquired the rights in 2016 that the project finally got off the ground. Now at long last, Netflix's Blonde is almost here, and if the first teaser is any indication, Ana de Armas is going to seriously shine in this role.
Initially published in 1999, Oates' Blonde is not a biography but a fictionalized reimagining of Monroe's inner life. The novel starts with her childhood as Norma Jeane Mortenson, covering her rise to fame first as Norma Jeane Baker, then as Marilyn Monroe, and her ultimate crash. An instant best-seller, it was a finalist for the 2001 Pulitzer Prize and the 2000 National Book Award for Fiction. As one might imagine, it is also a sexually explicit work, including depictions of sexually violent acts from Monroe's POV.
Dominik's commitment to honoring these details as part of his adaptation is one of the reasons the film took so long to get off the ground. When Netflix agreed to take on the project, it committed to allowing Dominik to see his vision through, making Blonde the streaming service's first-ever NC-17 film. As Dominick said in a recent interview with GQ, "There's something in it to offend everybody." He added, "Given the choice, I'd rather go and see the NC-17 version of the Marilyn Monroe story."
Here's everything to know about the film.
Blonde Trailer
The teaser for Blonde arrived on June 16, 2022. The trailer focuses on Armas as Monroe, and boy is she ever. The resemblance is shockingly perfect in some of these shots.
The second trailer arrived on July 28. It's a full-length clip with several A-list actors looking unrecognizable as real-life figures from Monroe's circle.
Also, this trailer hints several times at the scenes that earned this film an NC-17 rating without giving anything away. But it looks like the film is planning to hit some of the rougher parts of Oates' novel, so perhaps consider this trailer a trigger warning as well.
Blonde First Look Photos
If the trailer weren't enough proof of Armas' uncanny valley transformation into Monroe, the first look photos, which arrived along with the teaser in June, seal the deal.
Perhaps it's the black-and-white nature of the shots that gives Armas' look so much power, but however you slice it, people will be checking out this movie no matter what the rating to see how Armas pulls it off.
Blonde Magazine Cover Recreations
The Blonde team also recreated several famous magazine covers of Marilyn Monroe with de Armas posing. They're utterly uncanny.
Blonde Cast
As is standard for projects that take a decade or more to gestate, Blonde has had multiple actors attached to lead the film as Monroe. Naomi Watts was the original actor announced to star, but after delays and script changes, she left the project when the film was picked up by Brad Pitt's Plan B production company. Jessica Chastain replaced her in 2014. But after Netflix boarded the film, there was more upheaval, and finally, in 2019, Ana de Armas was announced to star.
As proof the film was finally on track, in August 2019, the film announced casting for three principal roles. Adrien Brody will play Monroe's first husband, Arthur Miller; Bobby Cannavale as her second husband, Joe DiMaggio; and Julianne Nicholson as Norma Jeane's mother, Gladys Pearl Baker.
In September, the film rounded out the cast with the additions of Garret Dillahunt, Scoot McNairy, Lucy DeVito, Michael Masini, Spencer Garrett, Chris Lemmon, Rebecca Wisocky, Ned Bellamy, and Dan Butler. Also, Caspar Phillipson will play President John F. Kennedy, with whom Monroe was rumored to have had an affair, and Lily Fisher will play the young Norma Jeane.
Blonde Plot
Here's Netflix's official synopsis:
Based on the bestselling novel by Joyce Carol Oates, Blonde boldly reimagines the life of one of Hollywood's most enduring icons, Marilyn Monroe. From her volatile childhood as Norma Jeane, through her rise to stardom and romantic entanglements, Blonde blurs the lines of fact and fiction to explore the widening split between her public and private selves.
Blonde Release Date
Blonde will be released worldwide, streaming exclusively on Netflix beginning Friday, Sept. 23, 2022.
If you or someone you know has been sexually assaulted, you can call the National Sexual Assault Telephone Hotline at 800-656-HOPE (4673) or visit online.rainn.org.
This article was originally published on