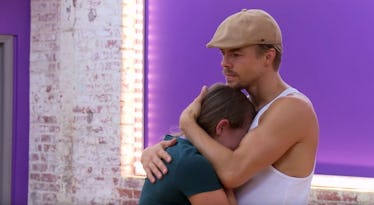 Steve Irwin's Daughter Opened Up About The Death Of Her Father On 'DWTS' (Video)
Youtube
On Monday's episode of "Dancing with the Stars," contestants were asked to perform contemporary routines following the theme of "most memorable year," and Bindi Irwin's performance prompted more than a few tears.
Speaking to partner Derek Hough, Irwin recalled 2006, when her father, Steve "The Crocodile Hunter" Irwin, passed away from an injury caused by a stingray.
The young conservationist and TV personality tearfully shared,
I can remember being little and being like, you know, 'The one thing I wanna do is be just like dad when I grow up,' and I still feel like that… It took a really long time to understand what actually happened. For the rest of my life, I'll kind of feel like he's gonna come home.
While choreographing the dance in rehearsal, Hough had Irwin grab his finger, like a small child would to his or her father. The move brought Irwin to tears, remembering her own father teaching her to walk.
Irwin and Hough's emotionally charged performance to a cover of The Police's "Every Breath You Take" earned the duo the night's highest score. With a 28 out of 30 possible points, and a perfect 10 from Bruno Tonioli, Irwin was able to repurpose her pain to create a captivating performance.
Citations: Bindi Irwin Delivers First Perfect 10 on Dancing with the Stars with Stunning Tribute to Late Father Steve Irwin: 'For the Rest of My Life, I'll Kind of Feel Like He's Going to Come Home' (PEOPLE)