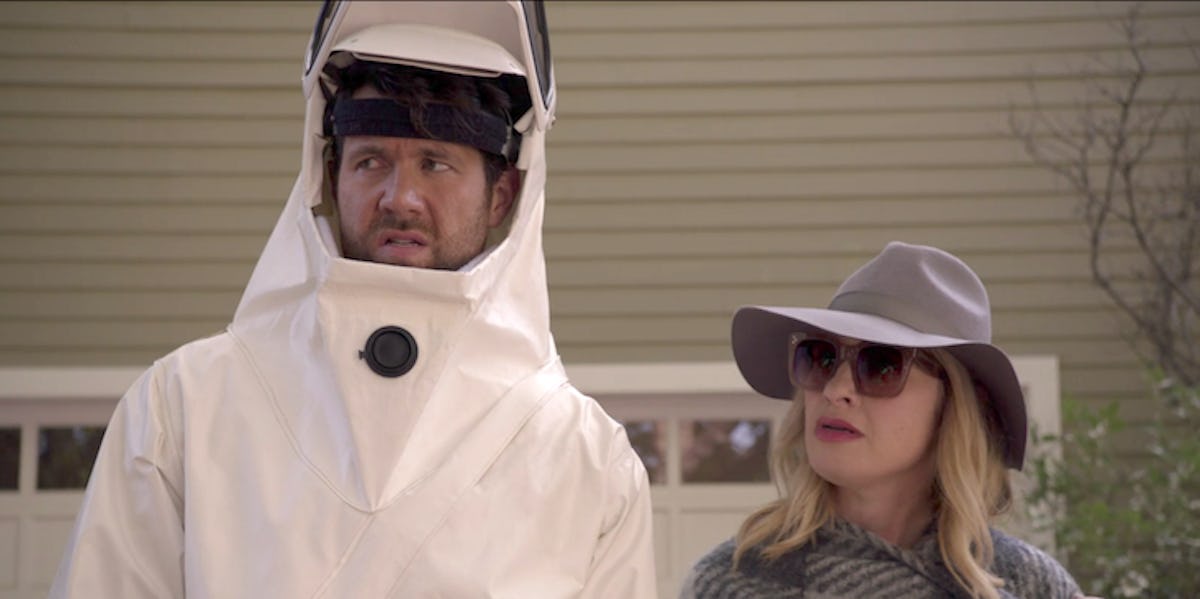 Billy Eichner & Leslie Grossman Prove To Be The Comedic Relief 'AHS: Cult' Needs
FX
Each season of American Horror Story is vastly different in tone, and that unpredictability and broadness is what makes coming into a new season so exciting. Ryan Murphy's horror anthology series has given us straight-up, nightmare-inducing horror in its Murder House season, followed by high dramatics with a sci-fi twist in Asylum, and then took a swift left turn with a campy, comedy-focused Coven season. Going into the newest season, Cult, it seemed like we were going to get a more serious, truly horrifying story again, but the introduction of a couple new characters in Episode 2 are giving the creepy, clown-centric, political season a bit of welcome comic relief. Billy Eichner and Leslie Grossman's AHS: Cult characters are just the touch of humor the new season needs.
In the second episode of the show, we met Harrison and Meadow Wilton, the quirky next-door neighbors played by Billy Eichner and Leslie Grossman, respectively. After the Chang family is murdered by killer clowns at the end of the premiere episode, Harrison and Meadow quickly move into their house. Although Ally and Ivy Mayfair-Richards (Sarah Paulson and Alison Pill) are initially wary of another couple moving into their murdered neighbors' home so soon after their death, they seem to come around to the unconventional new neighbors a bit after getting to know them.
And there's certainly a lot to get to know. The kooky couple seems to be a collection of bizarre interests and characters traits. Meadow is a ditzy hipster who can't be in the sun for more than a few minutes, and her openly gay husband Harrison has a passion for beekeeping. It turns out that despite Harrison's homosexuality, they still got married after reaching the end of one of those My Best Friend's Wedding-style marriage pacts where they were both still single at a certain age. It seems it's their shared love of Nicole Kidman that really bonds them most of all. Pretty quirky, huh!?
It's not really a surprise to find Billy Eichner and Leslie Grossman in absurdist, comedic roles. Ryan Murphy has proven his love for campy characters time and again not only within American Horror Story, but more notably in his other over-the-top series like Scream Queens, Glee, and Popular. And Eichner and Grossman are both known for their comedic talents. Eichner hosts the boisterous, viral, on-the-spot game show Billy on the Street as well as starring in the cantankerous Hulu comedy Difficult People, and Grossman has been the comedic standout in series like What I Like About You and 10 Things I Hate About You. This is the first time Eichner has worked with Murphy, but the showrunner has tapped into Grossman's comedic talents before at the beginning of his career — she had roles in both of his early series Popular and Nip/Tuck.
Although Harrison and Meadow definitely seem like the comedic relief characters right now, don't expect to be laughing at them for the rest of the season. Underneath their silliness, there's plenty to suggest that Ally and Ivy's new neighbors could be in on the creepy, cultish happenings around town. For one thing, Harrison's first introduction to us is his unsettling explanation of why he finds the mindless, communal work of bees in a hive so inspirational. Not only does it read as a pretty pro-cult sentiment, but as we've seen in the teasers, we know that bees are a big part of this season's theme, which makes Harrison's beekeeping passion all the more questionable.
The other big question mark on the couple comes with the revelation that Meadow was the person who filmed immigrant workers beating up Kai Anderson (Evan Peters) after he taunted them. Kai clearly wanted that footage to be captured on video, so could Meadow have been in his plan? While I was glad to get a few laughs from Harrison and Meadow, I'm totally prepared for the new couple to go from quirky to creepy soon enough.