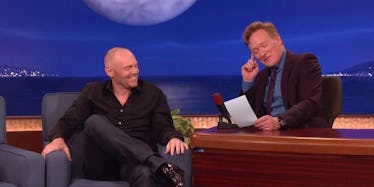 People Are Criticizing Bill Burr's Questionable Caitlyn Jenner Jokes (Video)
The Internet is pretty divided with its feelings toward Bill Burr this morning.
The comedian dropped by "Conan" Thursday night to promote his New York Comedy Festival show when the conversation shifted toward his thoughts on Caitlyn Jenner.
Burr joked,
There's like baby seals washing up on the beach because there's no fish left and they're talking to this lady, you know? Like, 'So Bruce, can your Olympic back handle a D-cup or are you going to go with like something a little more perky?' I'm not saying that in any bad way, I'm just saying. I miss that guy, I miss him already. He should have told us. He should have given us a chance to say goodbye.
Burr continued his rant by talking about how he liked watching Jenner on "C.H.I.P.s," the Olympics and "that horrible show my wife watched where he just walks around in the background"-- a clear reference to "Keeping up With The Kardashians."
The joke ended with Burr complaining about how easy it was to be labeled homophobic when talking about Caitlyn Jenner, specifically what pronoun to use when referencing her.
Though what he said might not have come from a negative place, the Internet's knee-jerk reaction to the exchange, which was really more of a monologue as Conan never really spoke until he plugged Burr's show at the end, did not hold Burr in a positive light.
Bill Burr is a piece of transphobic shit. This entire exchange is disgusting. http://t.co/JQvvWTLDAM — Jillian Gutowitz (@jillboard) August 21, 2015
TRANSGENDER WOMEN FACE MURDER FOR THE IDEAS BILL BURR JOKED ABOUT. MURDER. IT'S NOT FUNNY. — Prob Not On Hiatus (@KivaBay) August 21, 2015
.@billburr is so hateful. I feel bad for him. I hope he finds whatever his life is missing. — pinball wizard (@tophatstevie) August 21, 2015
Public opinion since swayed more toward support of the comedian after the original outpouring of anger toward his jokes.
Whatever happened to people having hobbies? People that are mad at what Burr said on Conan have way too much free time — Lee Syatt (@leesyatt) August 21, 2015
I support Trans rights. Scratch that: I support human rights for all. I also love Bill Burr and Conan. — Jeff Rey (@DrDichotomy) August 21, 2015
The ppl angry at Bill Burr & Conan O'Brien for the Jenner comments are cretins with no sense of humor. Just. Shut. Up. #DUMB — Dalton Ellingson (@Dalt_Ellingson) August 21, 2015
Long story short, Caitlyn Jenner is still a touchy subject and apparently all of the baby seals are dying.