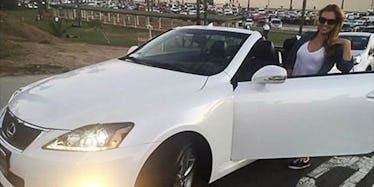 Ben Affleck's Ex-Nanny Flaunts And Brags About Her New $43,000 Lexus
Instagram
And the drama continues.
Christine Ouzounian, the nanny allegedly responsible for Ben Affleck and Jennifer Garner's divorce, took to the streets yesterday to show off her "new drop top Lexi," and now, many are questioning whether or not Affleck bought the 28-year-old woman the car as a gift.
Ouzounian, for the unfamiliar, was employed as the couple's nanny for several years, but she allegedly lost her job when reports surfaced recently indicating an affair between herself and Affleck, 14 years her senior.
The rumors of a possible affair escalated when Ouzounian was photographed lounging on a private plane wearing Tom Brady's Super Bowl rings.
For the past couple of weeks, Ouzounian has reportedly been hiding out in a $1,500-per-night suite at the Hotel Bel-Air, emerging yesterday only to take her pricey, new Lexus for a spin and do a bit of shopping at Sears.
On Monday, she shared a snap of the car on her private Instagram account, Entertainment Tonight reports.
Sources close to Affleck denied the actor picked up her hotel tab and the affair, but it's hard to imagine a nanny having the money to spend on luxury lodging and a new whip, even if she is a celebrity client.
My guess is Affleck is trying to keep her quiet with expensive gifts (and from the looks of it, it's working).
Citations: Ben Afflecks ex nanny takes her new 43 000 Lexus for a spin after bragging about the car on Instagram (Daily Mail)