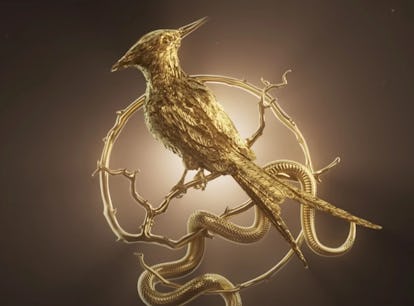 The Hunger Games Prequel Cast Is Expanding Yet Again
This isn't even a cast anymore; it's a whole damn roster.
Lionsgate
When the Hunger Games series ended in 2015, it was one of the highest-grossing dystopian fantasy series of all time. Based on the Suzanne Collins trilogy of novels of the same name, the series turned Jennifer Lawrence into a household name and set records for opening day weekends. With all its success and fanfare, fans knew there would be more when the story of Katniss Everdeen ended with Mockingjay Part 2's release in 2015. Now, the Hunger Games prequel, The Ballad of Songbird and Snakes, is headed for the big screen, and there's a lot for fans to learn.
The original Hunger Games trilogy focused on the 74th and 75th Hunger Games, which starred Katniss Everdeen, the volunteer tribute from District 12. The Capitol and its president, Coriolanus Snow, thought to use her bravery for their benefit to make the Games even more prominent than they already were. But her performance and sacrifices undermined their message and fomented rebellion, bringing down the Capitol and changing the direction of Panem for good.
Since then, fans have wondered about Panem, how the Hunger Games came about, and what they were like in the early years. The new prequel novel, The Ballad of Songbirds and Snakes, explores that era through the eyes of a character they already know and loathe: Coriolanus Snow, who was one of the Games' very first mentors.
The Ballad of Songbirds and Snakes First Look Photo
On Aug. 16, Lionsgate revealed the first look at stars Tom Blyth and Rachel Zegler as Coriolanus Snow and Lucy Gray, revealing for those who don't know that their romance is central to the story.
The Ballad of Songbirds and Snakes Cast
On May 16, Deadline reported the prequel movie cast its young Coriolanus Snow. Tom Blyth will play the future president of Panem as a young man in the years before he became the tyrant fans got to know in the Hunger Games series.
On May 30, 2022, Golden Globe winner Rachel Zegler posted a very odd tweet. It read, "listen up... can y'all grow restfully? are you becoming an individual resting decisively?"
After letting fans puzzle over it for 24 hours, she revealed the tweet contained a hidden message:
For those who have not read the prequel novel, Lucy Gray Baird is one of the two tributes from District 12 who compete in Panem's 10th Annual Hunger Games and who Coriolanus Snow finds himself mentoring. An amateur musician and folk singer, Lucy's savvy showmanship and natural ability in front of the camera become key to Snow's strategy and change how the Hunger Games are played. Zegler, who broke big as Maria in West Side Story, is a natural choice for a role that rides the line between dystopian heroine and the lead of a full-blown musical.
On July 18, Deadline reported the biggest name to join the cast so far, Game of Thrones' Peter Dinklage. He plays one of the film's main antagonists, Dean Casca Highbottom, who oversees The Academy, the Capitol's elite secondary school for the highborn. The man Snow will eventually come to emulate when he is elected as President, Highbottom is a terrifying man who is as vindictive as he is dour.
He is also the man who accidentally invented The Hunger Games, conceiving of them as a drunken joke for his senior finals project with Snow's father Crassus. Crassus then submitted it without his knowledge, something Highbottom never forgave him for. When Panem selected the idea as a fitting punishment for the District's rebellions, he became the face of the Games, a position he has maintained for the past decade when the story opens.
On Aug. 16, Lionsgate revealed another major addition: Viola Davis. Davis plays the story's primary villain, Dr. Volumnia Gaul, the Head Game Maker of the 10th annual Hunger Games. In announcing her casting, Lionsgate president Nathan Kahane boasted, "The Hunger Games films have always been elevated by their exceptional casting, and we are thrilled to be continuing that tradition with Viola Davis as Volumnia Gaul. Her formidable and powerful presence will add layers of complexity and menace to this story."
On June 23, Variety reported that Euphoria's Hunter Schafer will join the cast as Coriolanus' cousin, Tigris. Tigris' sewing skills are invaluable to Snow, as she's the one who manages to make sure he looks the part of an aristocrat, despite living in poverty. She also comes in handy as the 10th Hunger Games get underway. Tigris' name may sound familiar, as a much older version of the character appeared in the original Hunger Games movies, played by Eugenie Bondurant. On Sept. 16, Deadline revealed Tigris and Coriolanus' Grandma'am will be played by Tony Award nominee Fionnula Flanagan (Star Trek).
On June 27, The Hollywood Reporter revealed the new host for the Hunger Games. Jason Schwartzman (Bored to Death) was cast to play Lucretius "Lucky" Flickerman, the host of the 10th Hunger Games and great-grandfather to Stanley Tucci's Caesar Flickerman.
On June 21, Laurel Marsden (Ms. Marvel) was announced to play Lucy's nemesis back home, Mayfair Lipp, who ensures Baird winds up on the tribute block, but she wound up having to leave the production and was replaced by newcomer Isobel Jesper Jones. And on July 11, more members of Lucy's world back home were added to the cast. Dakota Shapiro (Valley of the Boom) and Vaughan Reilly (Russian Doll) play Billy Taupe and Maude Ivory as two critical members of her traveling band, the Covey. Other members of the Covey include newcomers to film Honor Gillies as Barb Azure, Eike Onyambu as Tam Amber, and Konstantin-Taffet as Clerk Carmine. Plus, George Somner (Sex Education) plays Spruce, who is from District 12.
Also, three actors were cast as Peacekeepers in District 12, which becomes more prominent in the post-Games fallout. They include Burn Gorman (Torchwood) as Commander Hoff, Scott Folan (Brotherhood) as Beanpole, and Carl Spencer (Rocketman) as Smiley.
As for the competition, Deadline announced several of the tributes from other Districts, along with their mentors.
District 1
Neither actor for tributes Facet and Velvereen have been announced.
Flora Li Thiemann (Tigermilk) plays Facet's mentor Livia Carden. No actor was announced for Palmyra Monty, Velvereen's mentor.
District 2
Newcomer Jerome Lance will play District 2's tribute, Marcus. No actor was announced for the other tribute, Sabyn.
Josh Andrés Rivera (West Side Story) will play Marcus' mentor, Sejanus Plinth. No actor was announced for Sabyn's mentor, Florus Friend, but Michael Greco (Hatfields & McCoys) and Daniela Grubert (Aida) will play Sejanus' parents, Strabo Plinth and Mrs. Plinth.
District 3
No actors have been announced for District 3's tributes, Circ and Teslee, or their mentors, Io Jasper and Urban Canville.
District 4
Mackenzie Lansing (Mare of Easttown) and Cooper Dillion (Sarah Kohr) will play District 4's tributes, Coral and Mizzen.
Max Raphael (Black Beauty) will play Coral's mentor, Festus Creed. Athena Strates (The Good Liar) plays Mizzen's mentor, Persephone Price.
District 5
No actors have been announced for District 5's tributes, Hy and Sol, or their mentors, Dennis Fling and Iphigenia Moss.
District 6
No actors have been announced for District 6's tributes, Otto and Ginnee, or their mentors, siblings Apollo and Diana Ring.
District 7
Irene Boehm (Babylon Berlin) and newcomer Hiroki Berrecloth will play District 7's tributes, Lamina and Treech.
Ayomide Adegun (The Continental) will play Lamina's mentor Pliny "Pup" Harrington. Amélie Hoeferle (Tapestry) will play Treech's mentor, Vipsania Sickle.
District 8
Sofia Sanchez (Switched at Birth) and newcomer Knox Gibson will play District 8's tributes, Wovey and Bobbin.
District 9
No actors have been announced for District 9's tributes, Panlo and Sheaf, or their mentors, Gaius Breen and Androcles Anderson.
District 10
Luna Kuse (Castle Einstein) and Kjell Brutscheidt (Ich bin Sophie Scholl) will play District 10's tributes Brandy and Tanner.
Lilly Cooper (The Witcher) will play Brady's mentor, Arachne Crane. Kaitlyn Akinpelumi (Tin Star) will play Tanner's mentor, Domita Whimsiwick.
District 11
Luna Steeples (Overdue) and Dimitri Abold (Warrior Nun) will play District 11's tributes, Dill and Reaper.
Aamer Husain (Hudson & Rex) will play Dill's mentor, Felix Ravinstill; Ashley Liao (Fuller House) will play Reaper's mentor, Clemensia Dovecote.
District 12
Nick Benson (Boo, Bitch) will play District 12's other tribute, Jessup.
Zoe Renee (Black Lightning) will play Jessup's mentor Lysistrata Vickers.
The Ballad of Songbirds and Snakes Trailer
Filming is slated to start in mid-2022, so there's no official footage yet for the upcoming film. But even though principal photography is not yet underway, the producers released a promo at the industry-only event CinemaCon in April, later televised during the MTV Movie Awards on June 5.
The Ballad of Songbirds and Snakes Filming Updates
Behind the camera, there will be lots of familiar faces. Francis Lawrence, who helmed The Hunger Games: Catching Fire and both Mockingjay installments, will be back as director. The same production team will also return, along with author Collins serving as executive producer.
The script will have a different screenwriter, though, Michael Arndt, best known for Star Wars: The Force Awakens, penning the adaptation of Collins' new novel.
The Ballad of Songbirds and Snakes Plot
Here's the film's official synopsis, which follows the plot of the novel:
The movie will focus on Coriolanus Snow at age 18, years before he would become the tyrannical President of Panem. Young Coriolanus is handsome and charming, and though the Snow family has fallen on hard times, he sees a chance for a change in his fortunes when he is chosen to be a mentor for the Tenth Hunger Games… only to have his elation dashed when he is assigned to mentor the girl tribute from impoverished District 12.
That tribute, Lucy, will be nothing like Snow expected. Together, the two will discover how to manipulate reality TV and change how the game is played.
The Ballad of Songbirds and Snakes Release Date
During CinemaCon, Lionsgate announced the prequel movie will be released in theaters on Nov. 17, 2023.
This article was originally published on