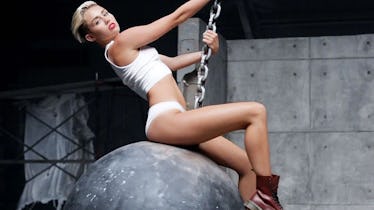 14 Bad Songs Your Fave Artists Desperately Want You To Forget About
Let's not live in the past.
YouTube
The music an artist releases becomes part of the legacy they leave behind. In a digital streaming world, music is more easily accessible than ever, and once a song is out into the world, it's out there forever. This is beneficial for fans who want to re-live their favorite albums over and over, but for musicians who would prefer to forget their earliest (and sometimes embarrassing or even offensive) early catalog, this proves to be a problem. There are so many old songs artists want fans to forget about, and they aren't afraid to say it.
As artists change and evolve, it's natural their sound does too. So, their earliest singles might not exactly be a good representation of their artistry as a whole. Just look at Lorde, who now detests the very song that put her on the map, "Royals." Other times, an artist might have been proud of the song, but wound up realizing their lyrics were problematic. In 2021, fans have a much higher expectation for artists' lyrics to be thoughtful, inclusive, and not offensive, so many singers and rappers are distancing themselves from their early singles that contained problematic lyrics.
It's nearly impossible to entirely scrub a song or music video from the internet, but these artists at least admit they wish they could.