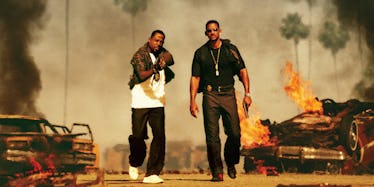 Let's F*cking Go: Two 'Bad Boys' Sequels Are Officially Happening
Columbia Pictures
If there's one thing I've learned about the "Bad Boys" film franchise over the years, it's that it's too lit.
And in 2017 and 2019, you can expect more of the same!
Sony officially announced it will be releasing "Bad Boys 3" in February 2017 and "Bad Boys 4" in July 2019.
While there are no further details -- like if Will Smith and Martin Lawrence are officially signed on -- I couldn't be more excited.
And judging by the way Martin called out Will last year to get a third one going, I'm just going to hope for the best.
11 years ago today, Bad Boys II was released in theaters. Feelin' it's about time for number 3… what do you think Will Smith? Posted by Martin Lawrence on Friday, July 18, 2014
Until then, rewatch this classic scene from "Bad Boys II" and get hyped!
Citations: Bad Boys 3 and Bad Boys 4 Coming In 2017 and 2019 (Slash Film)