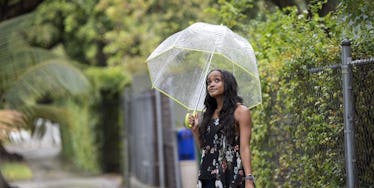 'Bachelorette's' Rachel Missed Her Engagement Party For This Super Relatable Reason
Rodrigo Varela/ABC
There's nothing worse than missing a party because of traffic. But when it's your own party? And your engagement party at that? Well then, what do you say except UGH.
That's apparently what happened to The Bachelorette's Rachel Lindsay. The star apparently was a no-show at her very own engagement party, and all because she missed her flight, according to Us Weekly. Girl, this is why you sign up for Pre-Check!
Rachel was supposed to be celebrating her as-yet-a-mystery engagement with her Bachelor Nation besties in Punta Cana.
Now, they're all there without her — drinking cocktails on the beach and taking those classic, we-all-jump-into-the-air shots in the surf. Former The Bachelor contestants Raven Gates, Astrid Loch, Danielle Lombard, Jasmine Good, Sarah Vendal, and Alexis Waters are all hanging out at the Hard Rock Hotel & Casino without Rachel. More drinks for them, I suppose?
Alexis posted an Instagram showing the ladies celebrating the bride, just, you know, minus the bride. "Celebrating @therachlindsay engagement without @therachlindsay #hardrockpuntacana," she captioned the pic.
There's no word on why exactly Rachel missed her flight, but I mean, come on. We've all been there.
Just a little too much traffic heading into the airport, or a missed connecting flight, or you forgot your passport on the kitchen counter. Heck, even wearing the wrong pair of shoes with some fiddly buckles can be the difference between making a flight or not. And of course, there's always the old classic — forgetting to set your alarm.
It's all good, though. Even if Rachel misses this engagement party, she's set to have two more.
One in Dallas, where her family is, and one — POSSIBLE SPOILER — in Miami. Gee, whose family is in Miami?
So, there's more sun, surf, and sangria (not to mention wedding bells) in her future for sure.
I'm sure your friends can hold down the cabana without you in the meantime, Rachel.