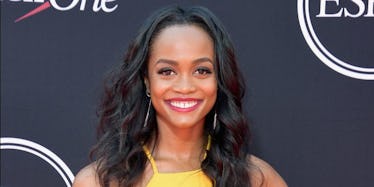 'Bachelorette' Rachel Reveals Whether Or Not She'll Take Bryan's Last Name
Matt Winkelmeyer/Getty Images
Ahhh, Bachelorette fans, we can finally stop stressing and rest easily — the deed is done and Rachel has chosen Bryan. Though it may not be the option many of us would have gone with (*eyes roll*), we're still happy for the new couple as they begin what will hopefully be a lifetime together. Of course, this is an exciting time for the two of them, and they've already started appearing publicly as a couple. On Tuesday morning, the new fiancés appeared on Live with Kelly and Ryan to talk about the show, their engagement, and what's next for them. During their chat with Ryan Seacrest and guest host Rita Ora, it was revealed that Rachel will take Bryan's last name. So, let me be the first to say: Hello, Mrs. Abasolo.
Naturally, Ryan had some other investigatory talking points to go over with our newest lovebirds and, lucky for us, they were open to spilling plenty of behind-the-scenes deets about the show and their relationship. Like all of us, right off the bat Ryan wanted to know when the couple would be tying the knot. Bryan revealed Rachel wants a winter wedding, so they're looking at December 2018/January 2019 (I'll have the chicken, guys). Ryan then asked Bryan how awkward it was to watch the finale episode with Rachel and see his wife-to-be smoochin' all over another guy while she was sitting right next to him. He said, cool as a cucumber, he knew what he signed up for and he anticipated Rachel having relationships with other guys on the show. To be fair, why would he care? I mean, he did win after all.
Then, Ryan really spilled the tea when he brought out a fan question for Rachel. He asked the former bachelorette what she thinks about claims Peter should've won, and that she only chose Bryan because he had a ring. (Let's be real, it's crossed all of our minds a time or two... or a hundred.) The future Mrs. Alasolo simply denied the claim, saying "Peter had his chance."
Rachel also revealed that Bryan was the best kisser out of the contestants (not like I've thought about it or anything) and told us she and her new fiancé don't know where they'll live yet (the apartment above mine is being fumigated now, if you're interested). Now that we've gotten answers to many of the pressing questions we had, we can finally relax and focus on our own lives for a little while, and, yes, by "a little while" I mean until next Monday when Bachelor in Paradise premieres.