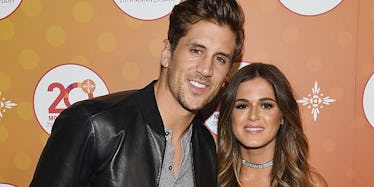 'Bachelorette' JoJo Posts Adorable Instagram To Jordan & We're Still Obsessed
Dimitrios Kambouris/Getty Images
Warning: This post contains spoilers for the finale of The Bachelorette. It's the Bachelorette finale for Rachel Lindsay, which means all the former Bachelorettes and contestants are coming out of the woodwork to show their support for their girl. And who could offer a better word of a encouragement than JoJo Fletcher, arguably the most successful Bachelorette of all. And while we may be judging Rachel now, it's hard not swoon over former Bachelorette JoJo's Instagram to Jordan Rodgers, AKA her Bachelorette winner from 2016.
JoJo posted a picture of herself and her fiancé, Jordan. The two got engaged when JoJo picked Jordan as the winner of The Bachelorette last year. While they haven't set a wedding date yet, their relationship is apparently still going strong.
JoJo wrote in the caption of the Instagram post,
A year later and I love you even more now @jrodgers11. I remember this day so well, and the excitement we both had waking up on this very morning. Enjoy this moment, and all the ones to come @therachlindsay! Xx
I guess it's possible to find lasting love on this show after all! If you guys consider "lasting love" to be one year, that is. Hey, I guess considering they only knew each other for a few months before getting engaged, a year is pretty impressive.
It's an adorable picture of the two of them, even if Jordan is caressing that clipboard almost as lovingly as he's caressing JoJo. Recently, in an interview with Elite Daily, JoJo opened up about why the two love birds aren't in a rush to get married. JoJo said,
I think when we first got engaged, I was so excited. He was so excited that we said that were gonna get married like ASAP because I think just that feeling it was so exciting. And then real life happens and you move with each other and the you realize that this is something you take your time on. And you enjoy being courted and enjoy being engaged and there's no rush for either one of us. And so when the time is right, we're gonna do it. That's still something that we obviously plan to do, but we're not going to just rush into it because that's what's expected, if that makes sense.
It totally does. Let's just hope Rachel's engagement to Bryan is just as long, if not longer. Offense intended.