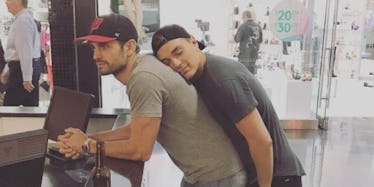 'Bachelorette' Dean & Peter Are In Full Bromance Mode, According To New Instagrams
Instagram
Being a resident of Bachelor nation is not easy. The chaos, drama, breakups, and makeups can all be (at least a bit) overwhelming at times. Fresh off the heels of Bachelor in Paradise Season 4, this is truer than ever. Between engagements, love triangles, cheating scandals, and all the he said/she said drama of the season, it's hard to look in any one direction for too long without being distracted by something else. If there is one gem to come out of Bachelor nation recently, though, it's Dean and Peter's bromance. Indeed, Dean and Peter's Instagrams display just how much the two bachelors love each other, and, TBH, after the past few weeks, that's better than anything we could've have hoped for from Bachelor universe.
Dean and Peter both vied for Rachel Lindsay's love and roses on the most recent season of The Bachelorette, but the competition obviously didn't stand in the way of these two becoming BFFs (probably because they both lost anyway). Recently, both men uploaded pics to their Instagrams that show off just how close they are after their time on The Bachelorette Season 13. I'm not gonna lie, this is the kind of content I need from Bachelor nation from now on. At least the chances of these two breaking up are far less than any of the "successful" couples from the show.
On September 23, Peter uploaded a romantic, black and white photo of himself and Dean cross-armed, drinking milkshakes, and gazing into each other's eyes while at the Planet Hollywood Resort & Casino in Las Vegas — as all straight, white men tend to do with each other. He captioned the beautiful moment, "Reunited and it feels so good!" As much as I hate Dean, I gotta say this is a cute moment.
Of course, Dean had to add to our feelings of nostalgia by answering Peter's picture with a snapshot of his own. This time, Peter is bent over a counter while Dean warmly and affectionately rests his head on Peter's back. You can tell by the relaxed look on Dean's face that this is his happy place (can you blame him?). Dean captioned his picture similarly to Peter; he wrote, "Reunited. And it feels damn good."
The boys were together in Las Vegas for the iHeartRadio Music Festival where they met up with fellow Bachelor nation members Becca Tilley, Ashley Iaconnetti, Wells Adams, and Ben Higgins for some fun at Planet Hollywood and on the T-Mobile arena red carpet. Obviously, some strong friendships come out of the Bachelor franchise.
Until just recently, when it was announced that Arie from Season 8 of The Bachelorette would be the next Bachelor, it was highly speculated that none other than Dean's boyfriend friend Peter would steal the coveted spot for the show's upcoming twenty-second season.
Peter was sent home by Rachel Lindsay during the emotional season finale where she chose Bryan Abasolo after Peter could not commit to proposing to her.
The Season 13 runner-up told Entertainment Tonight that he would be open to a gig as The Bachelor in the future, but that now "[W]asn't a good time for [him]." He went on to say,
[The show] was such an emotional roller coaster. I didn't feel like I had enough time to process the season and After The Final Rose, and where I was at in my own life at the time. I needed more time for clarity. I'm the type of person who needs maybe too much time to process things when it comes to life and love...when I'm talking about my wife and my future, I want to take time to really think about it.
Well, at least for now he has a strong bromance with Dean, which, I'm sure, is the only commitment Dean can make.