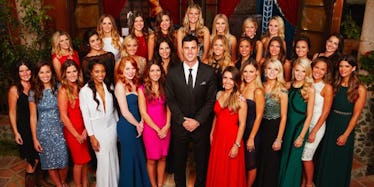 Why I'm Over The White-Washing Of 'The Bachelor' Every Season
ABC
I just cyber-stalked my ex and his new flings — except I never dated the guy, nor will I ever have that opportunity.
In other words, I went through all 28 contestant's profiles from the upcoming season of "The Bachelor" to judge who I think will be the best fit for our Colorado sweetheart, Ben Higgins.
No matter how much I pride myself on being an independent, educated woman, I'm also a slave to this cruel franchise.
I only started watching "The Bachelor" last January with Chris Soules' snooze-worthy season, but I've watched everything "Bachelor"-related since, including "The Bachelorette," "Bachelor in Paradise" and "Bachelor in Paradise: After Paradise."
But as long as I've watched these guilty pleasure shows, I've been disappointed with how the recent victors of the series have been happy white couples: Chris and Whitney, Jade and Tanner, Kaitlyn and Shawn.
Don't get me wrong; I'm just as obsessed with the latter two couples as the next person, but I'm starting to get tired of the predictability of it all.
As a mixed-race child of Japanese and Caucasian parents, I'm eager to see things spiced up in the "Bachelor" franchise. In other words, when am I going to get to see an interracial couple?
Now, I did my research and was pleasantly surprised to find that over the past 13 years, bachelors have chosen women of color.
Take season six winner Mary Delgado, who's from Cuba; season 10's Tessa Horst and Catherine Giudici (now Lowe) from Season 17, who's Filipina and European.
It's been three years since Catherine, and I think we're overdue for another woman of color as the winner of "The Bachelor."
Or, better yet, one who goes on to star in her own season of "The Bachelorette."
I'm getting tired of not seeing women who look like me represented on my favorite reality show.
That's why I'm keeping high hopes for this season after scouring all 28 profiles and picking out my top two contenders: Caila and Joelle (JoJo).
It's possible that these ladies will let me down within the first episode with heavily edited footage of them bitching about the other contestants, but their oh-so-relatable bios have me keeping an eye out for their entrances during the season premiere.
JoJo loves Ed Sheeran, indie pop and Taylor Swift (and her squad). Enough said.
Caila calls herself a "closet nerd," and worked for three years to pay for her trip to Germany to get in touch with her roots. So, yeah, these women are #relatable, but do the show's creators think so?
Apparently not.
Both of these women are the only ones to get asked the question, "What is your cultural background, and how important is it to you?" — in other words, "Where are you from, anyway?"
Racial ambiguity needs to be addressed, of course; God forbid you don't know someone's exact genetic makeup.
Caila reveals she's half German and half Filipino, while JoJo is half Persian and presumably half white (her dad's from Tennessee, she explains).
And though I'm all for these girls representing their cultures and showing pride for their mixed heritage, I'm also 100 percent sure the show's creators aren't prioritizing showing this side of them this season.
Pity.
But, I can still hold out hope that Ben will be attracted to something other than the typical blonde all-American girl, an archetype that has prevailed through most of "The Bachelor's" history.
That's not to say that I'm only eager to see racial diversity in "The Bachelor."
Of course I'd like to see more body types, sexualities, identities and backgrounds represented, but hey, we can only ask for so much from this heteronormative, ableist, sexist, etc. franchise.
In any case, it's safe to say I'm stoked for the most anticipated wine night I've ever planned with my best friends each week.
I'll be the one wearing Caila and JoJo buttons.