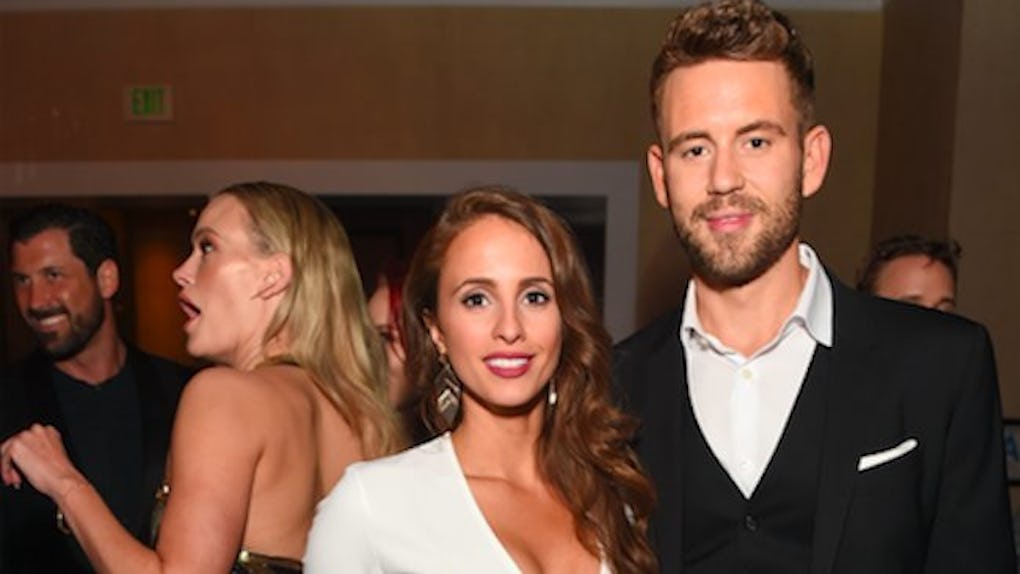 Emma McIntyre/Getty Images
What Happens To Vanessa's Engagement Ring? 'Bachelor' Nick Viall & His Fiance Call It Quits
If you're a fan (read: addict) of Bachelor nation, then you know Nick Viall and Vanessa Grimaldi made an absolutely adorable couple on The Bachelor last season; after all, that's probably why the hunk Nick proposed to Vanessa with a ring that could sink the Titanic (seriously, that sh*t's the size of a small SUV). Sadly, though, it looks as if these two are calling it quits after less than a year of being engaged to one another. Of course, we all feel bad for the couple and wish them both the best, but the real question on my mind right now is: What happens to Vanessa's engagement ring? Does she keep it? Does Nick take it back? Does ABC reclaim it since they paid for it? Can I have it? So many possibilities...
The $93,000 gem is a 3.75-carat round-cut Neil Lane diamond with a halo of smaller diamonds around the center stone; in total, it has 164 round-cut and two larger baguette-cut diamonds, so, realistically, anyone would wanna know the fate of the sparkler that Vanessa's been sporting for several months now. Though it's heartbreaking these two are calling it quits, it's not really entirely shocking; I mean, this isn't the first time we've seen a Bachelor couple split up post-engagement, so I'm sure the couple will know the best protocol for what happens to the ring.
Both Nick and Vanessa spoke about their decision to end their engagement in an exclusive joint statement with E! News. The couple said,
It's with a great amount of heartbreak for the both us as we have decided to end our engagement. We gave this relationship our all and we are saddened that we did not get the fairytale ending we hoped for. We will continue to be there for each other no matter what. This hasn't been an easy decision, however, as we part ways, we do so with lots of love and admiration for each other.
Aw. Really, though, this is sad, and I'm sure it wasn't an easy decision to make, but at least they're supporting each other in what seems to be a mutual decision to end their relationship. We wish both Nick and Vanessa nothing but the best as they move forward.