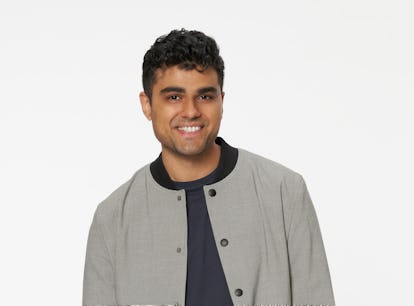 This Bachelorette Contestant Is The First Indian American To Get A Rose
Plus, he has one of the most impressive resumes ever.
ABC/Craig Sjodin
Michelle Young's season of The Bachelorette has only just begun, but it's already making history. In the Season 18 premiere episode, Pardeep Singh became the first Indian American man to receive a rose on The Bachelorette. Pardeep himself seems pretty proud of that fact, since he tweeted about it right after the episode aired. But that landmark rose is just one achievement among many on Pardeep's very impressive resume. His ABC bio says he's "the perfect combo of looks and intelligence," and let's just say, that's not inaccurate at all.
The Bachelorette isn't the first time Pardeep has celebrated and discussed his Indian American identity publicly. He also hosts a podcast called Deep Thoughts, on which he discusses "minorities in the sciences, arts, and public service." That podcast hosting gig is in addition to Pardeep's career as a neuroscientist. Yep, this 30-year-old Brooklynite is simply overflowing with talent. Hopefully, he'll get more screentime as this season of The Bachelorette continues. But in the meantime, here's everything to know about this history-making contestant, including all the details on Pardeep's job, Instagram, and more.
Pardeep Singh's Real Job
Pardeep is a neuroscientist who researches cures for neurological diseases like Parkinson's and Alzheimer's. In addition to his work as a neuroscientist, Pardeep co-founded the New York Biomedical Technician Rapid Response Team (BTRRT), which is a group of volunteer scientists that brings COVID-19 testing to neighborhoods that need it. "Our emergency COVID-19 testing lab was established in less than six weeks in Flatbush, Brooklyn during the height of the pandemic," Pardeep said in an interview with Integrated DNA Technologies.
Pardeep's podcast also covers his work as a scientist. On his podcast website, he writes, "The goal of these interviews is to have candid, first person conversations about the role of race, gender, and socioeconomic status in politics, the sciences and beyond." Pardeep clearly keeps busy with his multiple projects.
Pardeep Singh's Instagram
Pardeep isn't too active on his Instagram, but he's been posting a bit more lately as he's been gearing up for Season 18 of The Bachelorette, posting his official Bachelorette headshot as well as an adorable video reacting to Jimmy Kimmel's mention of him on his show. Pardeep also posts a bit to promote his podcast and to share some truly heartfelt memories about his family.
Pardeep Singh Facts
Not only is Pardeep serious about saving lives and connecting with people through podcasts, but he also cares a lot about maintaining his status as a self-described nerd. He loves Comic-Con and video games, and he's apparently looking for a partner who can occasionally nerd out with him. Michelle hasn't shown off a nerdy side yet, but there's always a chance it could come out soon to help bolster a connection with Pardeep. He also says in his ABC bio that he loves New Year's because he loves new beginnings, so maybe there's a new beginning for him and Michelle on the horizon.
Season 18 of The Bachelorette airs Tuesdays at 8 p.m. ET on ABC.