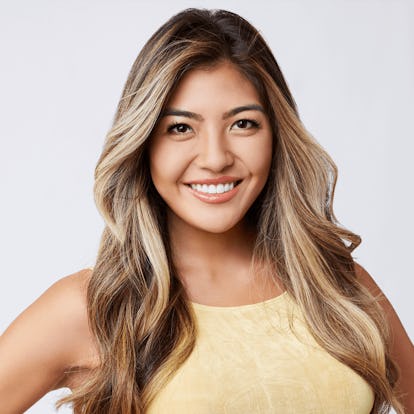 Everything To Remember About Ency From The Bachelor
She's hitting the beach to shake things up.
ABC
Bachelor In Paradise Season 8 is starting to slow down as the end draws near, and yet the cast for this season is still growing. At this point, most of the strong couples are established, but there's always a chance that a new addition could mix things up and be a part of a surprise brand-new couple at the end of the season. That's what Ency Abedin is counting on as she joins BIP Season 8 late in the game.
Ency joined the beaches of Paradise in the Nov. 14 episode with her sights set on one person: Andrew Spencer. Andrew was already moving forward in a relationship with Jessenia Cruz, so Ency's arrival definitely caused some waves on the beach as she put a wedge in the middle of an existing pairing. But Andrew seemed just as interested in Ency as she was in him, and so there's a chance they could form a real connection.
Ency may be late to the game, but she's still definitely a player to watch. Here's everything to remember about Ency from her previous time in Bachelor Nation during Clayton's season of The Bachelor, and everything to know about her as she attempts to move forward with Andrew in Paradise.
Ency Abedin's Bachelor Nation Journey
Ency was a part of Season 26 of The Bachelor, when Clayton Echard was the lead. She was eliminated in Week 2, so she didn't make it very far, but she still cherishes her time on the show. She told the official Bachelor Nation website that The Bachelor taught her, "you always have to put your best foot forward because every second counts," and that she has "lifelong friends" from the experience.
Ency Abedin's Real Job
According to her official Bachelor Nation bio, Ency's job title is sales manager, although on her LinkedIn profile, she lists her job as executive assistant brand manager for a company called Better Bru. She graduated from UC Irvine with a degree in international studies in 2018.
Ency Abedin's Instagram
Ency's Instagram highlights her travels and her love for her friends, along with some family snapshots. The 29-year-old is based in New York City, and she's even pushed for other Bachelor Nation alums to join her in the Big Apple on her Instagram.
Ency Abedin Facts
Ency's Korean heritage is really important to her. "Throughout my adolescent years, I was insecure and shy of my heritage due to the racism I received," she told Bachelor Nation. "Growing above that and now sharing my experiences as a pillar to connect with others in the AAPI community has brought me lots of joy and strength!"
Ency doesn't watch TV, but she loves musicals. Perhaps she'll make an exception when it comes to TV viewing in order to watch her time on BIP this season.