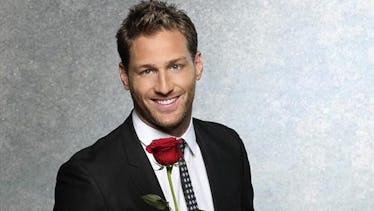 'Bachelor' Juan Pablo Got Married And Twitter Is Officially Blowing Up
ABC
It's not just Rachel Lindsay who found love on the Bachelorette finale. During the finale episode on Monday night, host Chris Harrison also revealed former Bachelor star Juan Pablo Galavis is married as well! The website for Us Weekly confirmed Harrison's surprising news that Bachelor Juan Pablo is married to Osmariel Villalobos, and Twitter officially cannot handle it.
The couple tied the knot in a private ceremony in Miami over the weekend. Villalobos is a Venezuelan beauty queen whom Juan Pablo has been dating for a little over a year now. They began going out in the summer of 2016, and apparently spent all their time together throughout the year. She even gets along great with Galavis' 8-year-old daughter, Camila.
A source tole Us Weekly although friends and family assumed they'd be getting married soon enough, the sudden wedding still caught them by a bit of surprise. Galavis and Villalobos had a very secret ceremony with only close friends and family in attendance. According to the source,
They both wanted to keep the wedding very, very secret. All their friends and family knew they were going to tie the knot eventually, but it was a surprise to a lot of their family members!
Luckily, we can still see Villalobos' stunning lace dress and Galavis' grey tux, thanks to an adorable post-wedding photo the beauty queen shared.
Though the wedding sounds great, most of Bachelor Nation clowned how Juan Pablo announced the news to the world, by having Chris Harrison share the update in the middle of Rachel Lindsay's Bachelorette finale. Obviously, most of the viewers were only tuning in to see who Rachel is finally going to choose, so they really didn't have the time or patience to hear about what Juan Pablo is up to. He was also not exactly the most popular Bachelor suitor the franchise has ever seen, so that didn't help...
Despite the negative feedback, Juan Pablo sure looks happy in that pic!