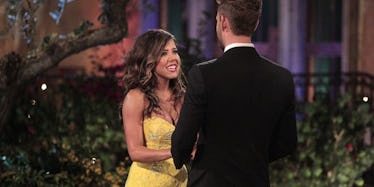 5 Things To Know About Christen, The Newest Addition To 'Bachelor In Paradise'
ABC/Rick Rowel
Bachelor In Paradise is known for adding new people as the season progresses, and one former Bachelor contestant we can expect to see shortly happens to be Christen Whitney. The Mexico group addition wasn't a standout player in the past, but we'll get to know her more soon. It's been a season-to-season trend to include at least one abstinent cast member, and she played that part on Nick's season, inevitably leaving the audience wondering, is Christen really a virgin? Well, apparently she'll touch on that in Paradise. Here's what we know about Christen so far.
1. She Was on Nick's Season
Christen wasn't a huge part of The Bachelor Season 21, but her short-lived stint left a few impressions. You may remember contestant Liz Sandoz disclosing her pre-show one night stand with Nick to Christen. In true Bachelor fashion, drama ensued. Christen was sent home in episode four.
2. Her Virginity Will Be Discussed On BIP
"Is paradise even paradise without a virgin?" Christen remarks, owning her choice in the extended trailer for this season. We later see her in a steamy makeout sesh with Jack Stone, who admits, "I 100 percent see myself marrying her one day." Whoa. Another match made in paradise?
3. She's Got Weddings On The Brain
...But it's not for the only reason you think. She was a wedding videographer back in Tulsa, OK., but she now resides in Nashville.
4. Her Faith Is Important To Her
Religion plays a huge role in Christen's life, including informing her decision to not have sex until marriage. She also has the life of Jesus in symbols tattooed on her wrist. Christen has a charitable side as well, participating in multiple philanthropic projects. She even makes an effort to promote causes she's passionate about on social media.
5. Her Reaction Faces Are Gold
Seriously. She's GIF-able dream.
Plus, we love a girl who knows how to poke fun at herself.
Looking forward to seeing you around, Christen.