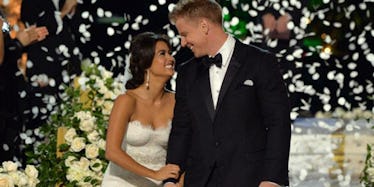 Twitter Is Losing It Over This Line In Catherine's Wedding Vows To 'Bachelor' Sean
ABC
Oh man, you guys, did Tuesday night's episode of Bachelor in Paradise get crazy or what? I mean, how about that part where Chris Harrison made us sit through 20 minutes of old Bachelor Nation wedding footage, instead of actually showing us anything new? Personally, I found that part riveting! But definitely the most fascinating thing that happened by far in that that in memoriam-esque wedding montage was hearing the whack vows that came out of these former Bachelor and Bachelorette contestants mouths, namely: "love sprinkles." Tweets about it prove that Bachelor Nation will likely never forget that phrase either.
This particularly genius phrase was apparently uttered at Sean Lowe and Catherine Giuduci's wedding in 2014. Specifically, the full phrase from Sean to Catherine was: "Every time I look at you, my heart fills with love sprinkles." Twitter really loved that. I mean, seriously Sean, who says that?! Of course, Sean and Catherine have been married for three years now, so honestly, who am I to judge? I guess the love sprinkles really do work. Maybe when these two renew their vows, Sean will bake a whole dang love cake.
Here's what Twitter had to say:
The couple got engaged in The Bachelor Season 17 finale in 2013, got married a year later in 2014, and have been a classic Bachelor success story ever since. They have one child, Samuel Thomas, who was born July 2, 2016, and reportedly Catherine is looking to have more kids. "I grew up with three in my house and five cousins next door, so that's eight. I've always wanted a big family," she told Us Weekly.
To think, a whole family of kids whose parents compare their love to baked goods decorations. Hey, there are worse love metaphors out there.
Fast-forward to present, where Carly Waddell and Evan Bass's wedding is taking place in Mexico. Luckily, Evan and Carly kept their vows a bit more traditional and classy. But who knows? Maybe love sprinkles are the secret ingredient to a lasting relationship.