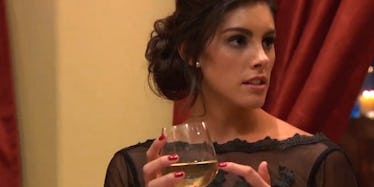 Lace Is Loco: 50 Thoughts We All Had While Watching 'The Bachelor'
ABC
"The Bachelor" gets a lot of hate. Like a lot.
And it really isn't a shock why.
It's basically a televised, glorified version of Tinder, where the guy never has to worry about girls swiping left.
Instead of Netflix and chill, there are elaborate, professionally planned dream dates.
Putting all that aside, let's be real.
Is there anything better than coming home from a day of mediocracy and labor to a glass of wine and two hours worth of romanticized false reality?
Absolutely nothing.
There is a reason there have been 20 seasons; we cannot get enough.
It helps that Ben Higgins may be the greatest "Bachelor" of all time.
It also helps that today's real life dating scene has kind of gone to crap.
Countless articles, scholars and first-hand experiences expose the truth that we've become more of a hook-up culture than a dating one.
Yes, there are still dates and of course there are always exceptions, but the idea of romance and dating is increasingly becoming a unicorn.
It's something we all want and think is amazing, but seems impossible to find, (this is going off the obvious truth that unicorns exist).
Even when we know it's not real, it is nice to see some aesthetics brought back into the dating scene.
Between dinners on the beach, candlelit strolls and gorgeous gowns, we can't help but imagine ourselves dancing the night away with America's most eligible bachelor.
So yes, I join the thousands of American's tuning in every Monday night to indulge in our shared, guilty pleasure.
And during those two hours of drama, lust, and 50 shades of cray (I'm looking at you, Lace), multiple thoughts run through our minds.
Episode two certainly had our inner monologues on hyper-mode:
1. Shirtless Ben? Hello. No one change the channel.
2. Going back to high school? Let's do this. Lunch isn't a subject, Chris!
3. Did these people never learn the M.I.M.A.L. map trick in school? #geography
4. LACE IS LOCO.
5. Ben, your wife isn't there what are you saying? I'm right here, on the couch, with mac and cheese.
6. Does mono not exist on reality TV?!
7. Caila's adorable.
8. Lace we ALL know you're here- because you're psycho.
9. Lace is a stage five clinger.
10. Jubilee's a rockstar. She can definitely kick my ass.
11. Settle down Lace, you're scaring us, lady!
12. Ben's an absolute dream.
13. You go Glenn Jo-Jo, you get that rose (and probs mono).
14. Plot twist- Kevin Hart and Ice Cube are in love with Ben too.
15. Fried chicken in a crock pot is actually insanely romantic.
16. Blue is a basic color Ben, do better.
17. Do they really think you can fall in love with 20 people waiting in the wings?
18. Sean and Catherine did it though, and they're the best couple on Earth. I wonder if they're watching.
19. They should really have their own show. I'd watch the crap out of that.
20. "I'm just looking for someone who compliments me." Same, Caila, same.
21. Crap, Ben's melting the hearts of America everywhere. Again. #Swoon
22. This concert is making me uncomfortable.
23. Aggressive with the Sean verse Ben comparison.
24. He's literally smelling sweaty armpits.
25. When you're into a guy and he thinks you smell sour…
26. Thermal body scans? I guess you do what you can to turn up the heat.
27. Samantha: You are the weakest link.
28. Olivia has more facial expressions than Jim Carrey.
29. No seriously, do you see her mouth?
30. WE NEED TO TALK ABOUT OLIVIA'S MOUTH.
31. WHAT THE HECK I JUST SAW HER APPENDIX.
32. Amanda should have gotten that rose, for real.
33. I'm definitely in love with Ben now.
34. When guys give up their jackets, aren't they cold?
35. Fast one by Olivia.
36. Two crazy bitches for the price of one.
37. If you have to keep telling people you're not crazy... you are in fact, crazy.
38. If I were on this show I would just eavesdrop 24/7.
39. What do the girls do in their downtime? Cry?
40. But if he gets rid of Lace, there goes the ratings.
41. "This is so stressful," that's a shocker. Dating someone who dates 20 other people should be easy!
42. STOP BEN OMG – the picture to Lauren could warm the Grinch's heart.
43. Lauren B + Ben 4ever.
44. A ribbon is not a rose though.
45. LOL are all these gifts going away presents?
46. Honestly, I'm happy for LB. Who wants to be compared on TV? You do you boo.
47. YOU GET A ROSE! YOU GET A ROSE! EVERYONE GETS A ROSE! Ha JK, not you Sam.
48. Why is Lace still here?
49. This girl is freaking crazy.
50. OLIVIA'S MOUTH, THOUGH.
Takeaways: Lace is loco, Olivia's already sent out wedding invitations and Ben needs to quit the show and marry me.