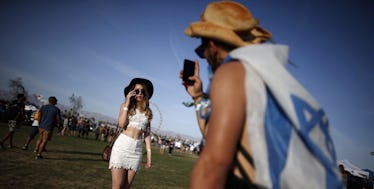 Here Are 20 Of The Absolute Hottest Babes Spotted At Coachella
REUTERS / Lucy Nicholson
The first weekend of the Coachella Valley Music and Arts Festival came to a close on Sunday, and from the musical acts to the massive art installations, to the diversity of food and crowd, the most highly-anticipated festival of the year did not disappoint.
This year's festival fashion took inspiration from Coachella festivals past and added in a few futuristic touches, emerging into an eclectic, redefined taste all its own.
Thankfully, Elite Daily had a front-row seat to what can only be described as a festival where people come to see and be seen.
The ensembles selected by the thousands of people in attendance made one thing clear: Coachella is the place to wear whatever the f*ck makes you feel like your best self. From the scantily clad to the most over-the-top; from comfortable to impractical; from "basic" to embellished, we saw it all at Coachella 2016.
Check out some of the absolute hottest babes we spotted at Coachella below.