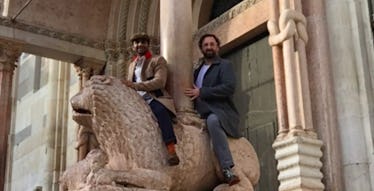 Aziz Ansari Made A Music Video For Kanye West's 'Famous' And It's Glorious
Vimeo
Kanye West - Famous from Eric Wareheim on Vimeo.
As far as I'm concerned, Aziz Ansari should be in charge of making every music video from now on, no matter whom the artist is.
Kanye has yet to release any music videos for the tracks on The Life of Pablo, and that's a damn shame. Pablo is a masterpiece, and keeping enjoyment of it exclusive to our ears is depriving the rest of our bodies of this musical accomplishment.
Thankfully, Aziz is here to fix that. While the creator and star of "Master of None" was off in Italy, he decided to create his own music video set to "Famous" with co-star Eric Wareheim (from "Tim and Eric Awesome Show, Great Job!").
Kanye music, pasta, Italy streets, cute European cars -- what else could you possibly want?
Honestly, Kanye shouldn't even bother making a music video for "Famous." He should 100 percent just use Aziz Ansari's fan-made one. I want Aziz Ansari to do Kesha's music videos, Pharrell's music videos, The Wiggles' music videos, even Bruce Springsteen's music videos.
Just hand Aziz your music, music people. Let him do the rest.