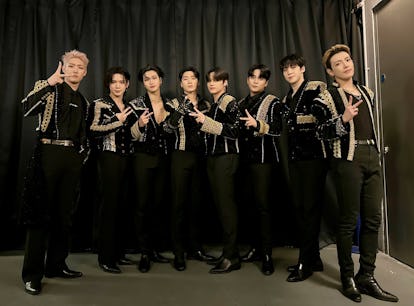 ATEEZ, K-Pop's Resident Pirates, Aren't Dropping Anchor Any Time Soon
The eight-member group's recent London concert was pure excellence.
KQ Entertainment
At London's O2 arena on Feb. 22, darkness engulfs a packed crowd of thousands, leaving just a constellation of illuminated light sticks patterned across the room. A flood of red lights then spotlight the eight members of ATEEZ, the first fourth-generation K-pop group to headline the iconic venue.
Dressed in cloaks that cover them head to toe, they walk from the main stage to a second one near the center of the room, striding with a measured intensity that says they know everyone is waiting for a big release. As the opening bars to their Earth-rattling song "New World" starts, one by one the members' faces are lit up by neon tube lights, each to an eruption of ear-ringing screams by fans (fondly dubbed by the group as ATINY).
The concert then kicks into high gear with pyrotechnics and light shows as the group commands its dancers with puppeteer-level control until their cloaks are shed and they stand face-on, resolute in their power. It's a feat of production, a thrilling assault on the senses that combines their typically booming musicality with a razor-sharp narrative vision that places them at the center of a fictional anarchist regime. This sensory overload is a far cry away from the first time they performed in the city in 2019, in a venue with about one-10th the capacity for fans.
A few days before the concert over a conference table, all eight members — ​​Hongjoong, Seonghwa, Yunho, Yeosang, San, Mingi, Wooyoung, and Jongho — sharply dressed in dark and tan suits, break out in a chorus of "whoas" and "aaaahs" as I show them a badly taken video in my Instagram archive from the rafters of that first London show. It captures them occupying the small stage alone in matching white shirts, performing with the kind of synchronized ferocity that has earned them a record legion of fans in the short time since. There are no backing dancers, no 40-foot screens showing them in close-up and no fireworks, except the ones they create themselves. All there is is ATEEZ, introducing themselves to fans with the same sentiment they'd open their biggest European tour to date with four years later: "Hello, world."
"I'm still nervous before I perform onstage," says Hongjoong, the intuitive leader of ATEEZ who takes on the responsibility of steering most of our conversation. Reflecting on those initial smaller gigs, he says "we have grown up so much and we are now so comfortable when fans see us onstage, but I think there's the same mindset from back then because we still want to show more things." He says a constant desire to get bigger and better keeps them hungry. "At the shows, I always think that I want to be back here to see fans again, but if we want to do that work, we have to try harder. So it's the same mindset."
That first world tour came just five months after the group debuted in late 2018 with dual singles "Pirate King" and "Treasure," proving that conquering the world was never just intended to be kept within the confines of their overarching pirate-themed concept. Despite a global pandemic halting the ability to travel and even perform in front of live audiences at home, ATEEZ have barely slowed down their expansion. Through songs like 2020's "Inception," 2021's "Fireworks," and last year's explosive "Guerilla," which their current world tour is inspired by, they've grown not only in tone but in popularity, pioneering a sound replete with as much passion as melodiousness and which has translated to millions of views on YouTube and spots on global music charts. It's also tangibly materialized in their ability to fill arenas wherever they decide to tour and a secure place in the global conversation about K-pop's global boom.
Get The Elite Daily Newsletter
You deserve emails that are actually fun — full of juicy celeb intel, astrology, helpful dating advice, and much more. Luckily, our newsletter will bring you all of that, well, daily.
Since 2022, much of ATEEZ's time has been spent on the road, first with The Fellowship: Beginning of the End and now The Fellowship: Break the Wall. Both names are a nod to their pirate roots and the idea of taking on the world together as a unit. They've done so much traveling, in fact, that when asked whether there was anything they'd like to see in London while they're here, they joke they've already seen most of it from the number of times they've been. (A walk across Abbey Road's iconic crosswalk, a Chelsea FC game, and, for Wooyoung especially, a trip to the Harry Potter studio remains on their to-do list. "It's the third time I've failed to do it so next time I'll book tickets before I leave Korea," Wooyoung sighs.)
Gaps in their intense touring schedules have also been filled with musical releases like EPs, standalone singles, music videos, and music show performances in South Korea. Such a packed diary could make it hard to stay motivated or think ahead creatively, but the members each have different ways to combat that burnout. "I search my name on social media," says Seonghwa. "So many ATINYs give encouraging words, and that's how I get my support." Next to him, Wooyoung echoes, saying, "even if it's hectic and we have one thing after another, we know that there are ATINYs who have been waiting even longer to see us." He also adds that he enjoys when he's recognized in the street on tour, as it reinforces the reality that he's a famous singer who has a responsibility to keep pushing himself for fans.
"I get inspiration from games, animation, and things I'm doing online," Yeosang says, pointing to fan art interpretations of himself and the group on social media. "I see ATINYs' drawings, and that gives me inspiration. If I see something I like, I try to make it happen onstage and make it look as good."
"They're so fast!" Hongjoong enthusiastically chimes in about their fans' art, "and they make us look cooler, so we try to copy the outfits." Yunho laughs next to him, calling ATINY the group's new stylists.
Honjoong then dives into his own inspiration, as someone who composes much of the group's music. "I always say to many people that my role model is David Bowie as he always tried so many creative things, so I try to get inspiration from everything. Like, even in our interview, if I get new praise or hear a good sentence, I write it down in my [phone] memos so that I can continually be creative."
The constant desire to push forward and improve is palpable within ATEEZ, a group whose creative mental exertion is matched only by the sheer amount of physical labor they exercise on stage. Barely a moment during their set, which is packed with more than 20 songs spanning their almost five-year discography, is spent not doing some kind of energy-expending choreography. Here, the intersection of tiredness and adrenaline converges as the group tries to balance getting enough rest with the thrumming afterbuzz of performing to a room of thousands.
"It's different for every member," Yunho says about their post-concert wind-down. He says he likes to play games on his phone or scan the Internet, which is the same for Jongho, who called his cellphone his greatest essential when going out on tour. But they've recently, as a group, also developed a new way to mellow out that high. "After a show, we immediately get on the tour bus and ask it to just drive us around," says Hongjoong. "We usually talk about our show, the mistakes we made, or sometimes we'll joke and talk about the parts that were really good and that we should try again. We like to review the show."
With their mind on performing while onstage and, seemingly, offstage too, you'd be forgiven for thinking the eight members have little time to dedicate to their own well-being. However, despite their constant churn of output, which includes new music coming at an unspecified time later this year, they've each focused on hobbies and goals coming into 2023.
Jongho immediately and enthusiastically says that he wants to take up golf more when he gets back to South Korea, while Yunho and Yeosang want to improve their gaming. San says he wants to start playing volleyball but needs to convince others to join him: "I'm alone," he says as the room laughs, "so I need some friends."
The group also just realized Wooyoung and Mingi have a knack for bowling after a group trip during a recent tour stop in Germany. "They were so good! We were so surprised," says a bewildered Hongjoong.
As for Hongjoong, whom ATINY also call Captain, he wants to showcase more of his photography. "Last year, I did an exhibition of film photos, so I want to do that again this year," he says, adding, "I try to take a picture everywhere [we go]."
Everywhere they go feels like a prophecy waiting to be fulfilled by ATEEZ. Their lore has always centered around the idea of travel, be it as pirates coursing the seas in their debut to dimension-hopping in a search for utopia in the connecting storylines of their music videos. In everything they create, there is always an eye for what they can lay claim to next.
After their show, as I'm led backstage to chat with them one final time, the group enthusiastically waves me off, saying "see you next time!" — which sounds more like a commitment than anything else. The post-pandemic era of ATEEZ's journey has really just set sail.