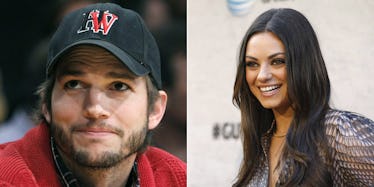 Ashton Kutcher And Mila Kunis Had The Cutest Easter Ever With Their Daughter
REUTERS/Mario Anzuoni/Alex Gallardo
Ashton Kutcher and Mila Kunis came to a major crossroads last weekend, as all new parents do.
They had to decide how they were going to approach the all-important topic of the Easter Bunny with their 1-year-old daughter, Wyatt. On "Jimmy Kimmel Live!" on Monday night, Ashton explained he and Mila had mixed feelings about the bunny.
He said they definitely wanted to do the whole Santa Claus thing, but they hadn't come to a definite conclusion about keeping up the large-bunny-bringing-Easter-eggs charade.
He explained,
It's tough. It's like, 'Why is a bunny laying eggs. Mommy, does a bunny lay eggs?' 'No, but the Easter Bunny does'... and then it becomes a whole thing... It's all really confusing.
Yes, it's all really confusing. The Easter Bunny has long been blamed for alerting children to their parents elaborate lies -- some even venture to say kids would believe in Santa longer if the idea of a giant rabbit laying plastic eggs wasn't also on the table.
Ashton and Mila settled on still giving Wyatt eggs, but they filled them with Cheerios and raisins instead of candy.
You can listen to Ashton explain the whole Easter dilemma -- and the hilarious struggle to keep Wyatt away from sugar -- in the video above.