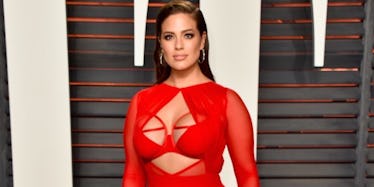 Ashley Graham's Maxim Cover Might Be Photoshopped And Fans Are Losing It
Getty Images
Ughhh, all right, let's talk about Photoshop. Namely, fans' rage over model Ashley Graham's recent Maxim cover, which people believe was photoshopped into oblivion.
Before we dive in, it behooves me to acknowledge the following: The odds Maxim hired Graham not only as a cover model for its April issue but also as a photo editor are absurdly slim.
The decision to alter the photo was not made by the model herself, and yet she bears the brunt of criticism from followers who appreciate her natural form.
When Graham shared a snap of the cover on Instagram, commentators complained it looked "extremely photoshopped" to the extent a third breast appeared in the middle of her chest.
Compared to other professional photos of Graham, there is certainly a noticeable difference.
Some fans were pleased with Maxim's results. They praised Graham for representing fuller-figured beauties.
On Graham's Instagram post, one follower wrote,
I'm so happy you're part of the movement and an advocate for beauty that comes in different sizes, shapes, and colors.
Many made points to call out Maxim, rather than the model, for 'shopping the picture and "minimizing" her "gorgeous curves."
In the event Graham's cover photo is, indeed, heavily altered, that supremely blows. Considering, however, the slimmest of models suffer the same fates, this particular cover remains a coup for women yearning to see a variety of shapes on the drugstore shelves.
Graham didn't decide to be photoshopped, and while it may "minimize" her in a literal sense, the 'shop job does not minimize her accomplishments as an earth-shatteringly gorgeous, plus-size supermodel.
The day has arrived when ladies can crack open an issue of Maxim and see a woman with curves posing in a swimsuit she designed herself for the rest of us to wear with confidence.
Down the line, publications will hopefully have enough faith in the beauty of their models to refrain from digitally editing their shapes from head to toe.
For now, Graham's presence on the frontline of fashion remains a triumph for herself and fellow women.
Citations: Can You Tell Why People Are So Confused About Ashley Graham's Maxim Cover? (Cosmopolitan)