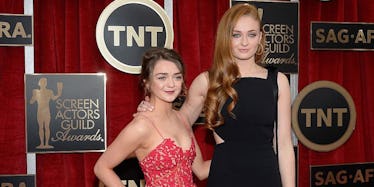 Arya & Sansa Stark On Their First 'GOT' Scene Together In Years: "It Took A Few Hours"
Kevork Djansezian/Getty Images
Warning: This post contains spoilers for Game of Thrones Season 7, Episode 4. We've been waiting seven long seasons and it's finally happening: The Stark kids are finally reuniting on Game of Thrones. In Sunday night's episode, "The Spoils of War," actors Maisie Williams and Sophie Turner shared the screen for the first Arya and Sansa Stark scene on Game Of Thrones since Season 1. In an interview with Entertainment Weekly, Williams and Turner confirmed the reunion for the on-screen sisters and the off-screen friends was both wonderful and weird at the same time.
Turner said,
Our first scene together was our reunion scene and we f—ed up so many times. We couldn't keep a straight face! Our relationship is so close, but it's only that fun side, never the business side. I was nervous. It just terrified me. It's like performing for your mom. When somebody is watching you don't do it quite as well.
Williams agreed with her, adding,
It was the weirdest thing when we shot our first scene together. We were both embarrassed to do our thing in front of each other. It took a few hours for us to get serious and actually do it. Later it was fine on set and we could concentrate, but it was so hard to get into character with Sophie in front of me.
Though it's been years since the two acted to together, Turner and Williams have become fast friends over the years of Game of Thrones press tours. (Despite their age difference on the show and height difference IRL, Williams is only one year younger than Turner, at the age of 20.) In fact, they're so close, they even got matching BFFs tattoos.
So though it took them awhile to get out of BFF mode and into acting mode, Turner said once they did get into, they really connected. She said,
But in the long run I think it benefits us because we can be free with each other in our acting. We're not afraid to go there with each other because we feel so comfortable around each other.
And the first person Turner called when she found out about the Stark sibling reunion? Her on-screen sister, of course. Now, all we need is for Jon to come back to Winterfell, and then I can finally breathe again.