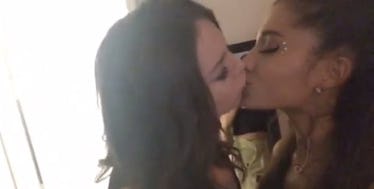 Ariana Grande 'Accidentally' Posts Video Of Her Kissing Another Actress
The world has no clue what to do because Ariana Grande accidentally uploaded a video in which she's kissing another woman.
In the video, Ariana is hanging out with her former "Victorious" cast member Liz Gillies when suddenly the two share a big ol' smooch.
The kiss was recorded and posted to Instagram, but apparently that was a total accident.
After it was posted, she captioned the video, "My favorite video of all time @lizgillz. (p.s. this was totally posted by accident)."
Ariana went to Twitter to, um, explain what the hell just happened.
She clearly gives no f*cks.
I WAS EDITING IT IN INSTA TO SEND TO HER AND IT POSTED ACCIDENTALLY BUT ITS GREAT SO WHATEVER — Ariana Grande (@ArianaGrande) October 6, 2015
And her fans were totally into it.
Like, way too into it.
@ArianaGrande pic.twitter.com/RCWU8Mlqxu — anesha (@beamingari) October 6, 2015
Ariana and Liz met each other performing in the Broadway musical "13," which premiered in 2008. They've been best friends ever since.
Thanks for accidentally giving us a sneak peek into the magical bond you two ladies share, Ariana. We appreciate it.
Citations: Ariana Grande accidentally posted a video of her kissing friend Liz Gillies (Cosmopolitan)