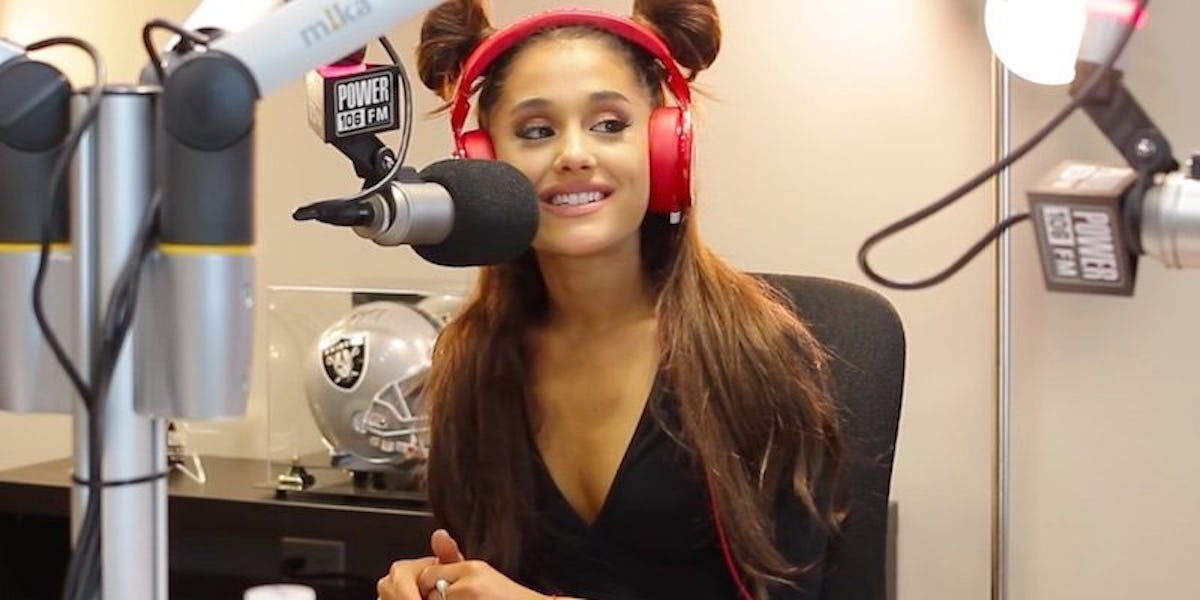 Ariana Grande Shut Down These Radio Hosts And Their Sexist Questions (Video)
LISTEN UP, POWER 106 LOS ANGELES: YOU'RE ABOUT TO LEARN A LITTLE SOMETHING ABOUT EQUALITY, AND YOU'RE GONNA LEARN IT FROM… Ariana Grande?
Grande joined hosts Eric D-Lux and Justin Credible on "The Liftoff" to talk about her new single, "Focus," and ended up giving the pair a lesson in gender equality like a teeny, ponytailed Gloria Steinem.
A video of the interview reaches a lighthearted moment of would-you-rather in which D-Lux and Credible (whose last name is six thousand times lamer without the "Justin," but does give him a believable quality) ask Grande,
If you could use makeup or your phone one last time, which one would you pick?
Raising an eyebrow, the singer replies,
Is this what you think girls have trouble choosing between? Is this men assuming that's what girls would have to choose between?
The hosts stick to their guns -- certain women value their bronzer and Snapchat above all -- and challenge the pop star, asking how long she can go without her phone.
Grande says she values face-to-face communication and can go "many hours" without being glued to her iPhone.
Glad to hear Grande is not a total waste of a perfectly good beating heart, like most women, one of the hosts (Credible? D-Lux? Jazaam? Ping-a-ling? One of those) excitedly suggests,
Ladies, learn! Listen! LEARN, LADIES!
The "Focus" singer jumps on his comment, insisting,
Boys, learn! Come on, boys and girls, we can all learn.
The other host (D-Licious? Collapsable?) shifts the conversation to emoji and claims he would never use a unicorn emoji (he's a boy with a penis, OK?!?).
Grande decides the hosts "need a little brushing up on equality" and playfully says,
All right, I change my mind. I don't wanna hang out at Power 106 anymore.
Damn, D-Lunchables. You just got your asses handed to you by someone who once shot an entire music video in Christmas pajamas.