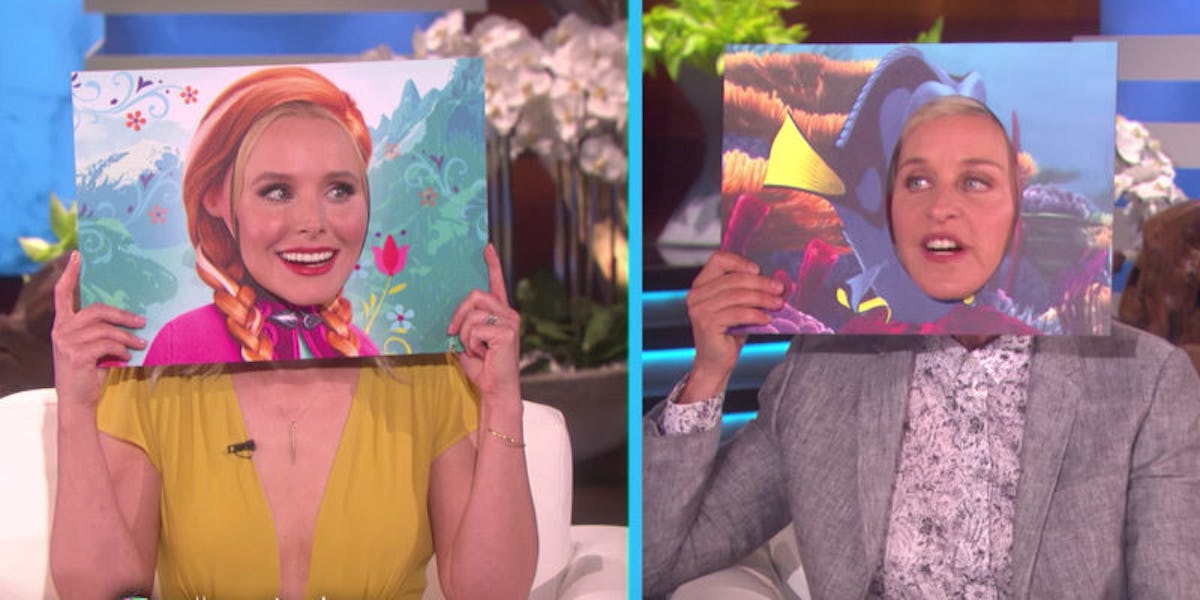 Anna From 'Frozen' Found Dory In The Most Adorable Way On 'Ellen'
YouTube
Guys, start shredding your hundreds of pages of "Frozen" and "Finding Nemo" fanfic! We don't need it anymore!
Kristin Bell paid a visit to "The Ellen DeGeneres Show," and unfortunately for Kristin, this particular episode was sloth-free.
Fortunately for us, the two of them voiced what it would be like if Anna from Arendelle met Dory from "Finding Nemo" and Finding Dory."
The best part? Anna asked Dory if she wanted to build a snowman. I mean, luckily for Dory they didn't because playing with snow might actually kill a fish.
Of course, this isn't the first time two animated characters from different beloved movies got a chance to interact with each other on "Ellen."
Tom Hanks and Ellen recently got into a self-proclaimed "Pixar-Off," and if you close your eyes watching the video below, it feels like the plot of "Toy Story 27: Woody Meets Dory" is truly unfolding.
This really begs the question if Ellen will keep having Disney and Pixar characters meet on her show, until all the animated universes collide forming a rift in the two-dimensional space-time continuum.
The next possible guest she could pull this off with is Lupita Nyong'o, who comes on the program on Wednesday.
Lupita voiced the wolf Raksha in the latest Disney reboot to hit theaters, "The Jungle Book." Will Raksha meet Dory? Will Raksha eat Dory?
Time will tell.
Kristin and Ellen also created an audition tape for the Spice Girls, seeing as how Posh and Sport won't be joining the band's reunion tour.
Personally, I just have my fingers crossed that "Fresh Garlic Spice" makes it on to the tour's final roster.
Does everyone think that Disney and Pixar should start having crossover films?
Just imagine it...
Mr. Incredible wakes up to a horrible phone call; someone has kidnapped the old dude from "Up." (What? I'll IMDB this later.)
His son, Dash Parr, holds his toy Woody and listens through the door. Later, Woody recruits Buzz to help out and just as they're leaving, Mr. Potato Head nearly steps on (are you still reading?) Flik the Ant.
But guys, HOLY SH*T! Flik remembers that the old dude they're after is the same old dude who would feed him and his colony leftover popcorn. Guess what? The entire ant hill is mobilized in a search and rescue.
OK, that's as far as I'll go (without probably sued by Disney), but if you're reading this over at the Mouse House, I'm very available to write this animated feature!